Laing AutoCirc E1 Hot Water Recirculation Pumps
Laing
Laing AutoCirc E1 Hot Water Recirculation Pumps
AutoCirc ACT-E1 instant hot water circulation pump system from Laing. Pump is installed under the sink or faucet farthest from the water heater -- where hot water usually takes the longest amount of time to arrive. A built-in temperature sensor automatically turns the pump on when the water temperature in the hot water supply line cools down to 85 deg. F. This cool water in the hot water supply line is then pumped into the cold water line and back into the water heater.
The pump turns off automatically when the hot water supply line to the faucet reaches 95 deg. F, ensuring the instant availability of shower warm water with maximum temperature hot water only seconds behind. AB1953 compliant.

NOT FOR USE WITH TANKLESS WATER HEATERS. NOTE THE E1 SERIES REPLACES THE ACT-303-BT(R)W PUMPS.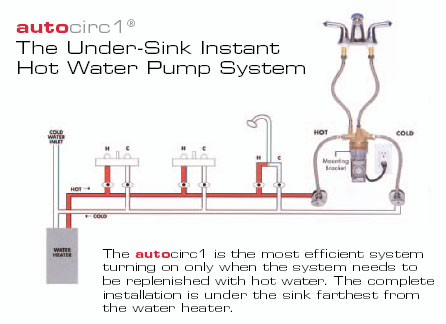 The Autocirc Under-Sink Instant Hot Water Pump System:

Does not require a return line.

Requires only 14 watts of power.

Packaged complete with a 6 ft. long power cord.

Requires only one pump and one installation for all fixtures on the hot water plumbing line.

Has built-in fixed thermostat or an optional, adjustable thermostat.

Has a built-in 24 hour timer which allows the selection of system operating periods to suit family usage.

Saves the average family of four up to 17,000 gallons of water annually.

Is silent during operation.

Saves energy, money, water and pays for itself in a short period of time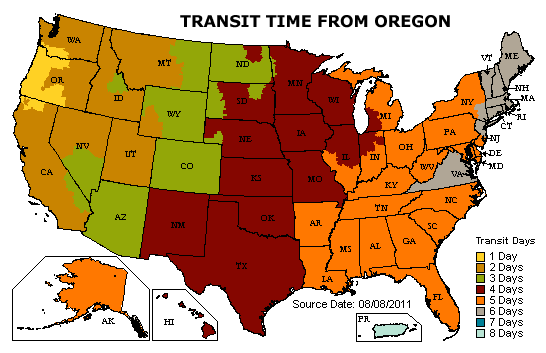 Do you have questions about the products on this page?

Click on the ? image on the left or this link to ask us your questions!
#1
Q: Building a new house with the plastic(PEX)hot and cold water lines. Can this be used with out exceeding the pressure limits on the plastic tubing?
A: Yes, it adds almost no pressure to the line, simply circulates hot water through an open loop back to the heater.

Asked on 2013-11-15 by John B
#2
Q: On the E1-BCANCT1W-06, what are the fittings size for the water hook up? It sounds like an easy install (depending on the commonality of the connection.
A: They accept the standard 1/2 inch supply hoses you can get at the hardware store.

Asked on 2013-10-25 by chiefjoe
#3
Q: Are parts available for the ACT-303 series? Pump eratic-must tap side of unit to re-activate whatever is stuck!
A: When they went to the new DC motor, they elected to stop selling parts. A whole unit with new warranty must be purchased.

Asked on 2013-10-25 by jim in eugene, OR
#4
Q: How many discrete time periods can be programmed into the system for hot water circulation?
A: They can be turned on and off via timer about every 10-15 minutes...The amount of periods is almost infinite.

Asked on 2013-09-26 by R.
#5
Q: My water heater is set at 180 degrees, will this unit work at this high temp?
A: The maximum temperature the pump can handle is 203 degrees F.

Asked on 2013-09-23 by Steve T
#6
Q: The pump on my unit is going bad. The timed motor still working well. My question is -- Can I purchase the pump only for this model? Thanks
A: Unfortunately not. When they changed to the DC motors, they stopped selling parts. The good news is that the casting is the same, so it will pop right on.

Asked on 2013-09-16 by TK
#7
Q: Q&A #5 says you will get a small amt. of warm water out of the cold when wanting a cold glass of water. how much warm water do you have to bled out.
A: It depends on where you are in the system and if the pump has run recently, but very little if any. I like to make sure people know it is at least a remote possibility in the interest of full disclosure

Asked on 2013-08-11 by Bob
#8
Q: Will this work for tankless water heater?
A: It will not, one must use the E10 for tankless heaters.

Asked on 2013-08-01 by jorge f
#9
Q: How to set timer after a power outage
A: Depending on model, Up is the pointer for current time.

Asked on 2013-07-29 by Sandra
#10
Q: Can you please give me the dimensions of this pump?
A: Quite small, 9x3x2 or so...

Asked on 2013-06-19 by BWW - Florida
#11
Q: what is the warrenty on this pump
A: Two year no fault warranty.

Asked on 2013-04-13 by bobby savoie
#12
Q: dont you get warm water in the cold water side of the faucet inline before the pump?
A: You might get a very small amount of luke warm water on the cold water side but its a minimal amount and dissipates very quickly.

Asked on 2013-04-06 by Bill
Related Products
Hot water recirculation pumps FOR DEDICATED RETURN LINES. E1 and larger E3 series.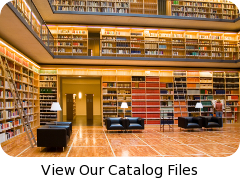 why buy from us?
We're engineers passionate about home ventilation and serious about customer service – so you can count on us for carefully-selected equipment and expert advice to ensure your project is a success from specification to installation.
Your call is answered by qualified people who will gladly discuss your project in detail, advise you professionally and never sell you inappropriate products.