S&P Fan Kitchen Ventilation Kits
HVACQuick.com
S&P Fan Kitchen Ventilation Kits
A powerful S&P TD fan mounted inline—that is, in the wall or attic rather than inside the range hood—is the optimum setup to deliver great ventilation performance with very little noise. The ASKI series brings serious commercial components, specifications and techniques to residential kitchen ventilation.
The result is to eliminate smoke, heat, grease and odors quietly and efficiently, keeping the air quality and noise level in your kitchen as inviting as the decor.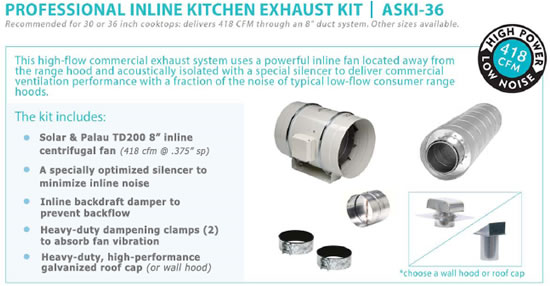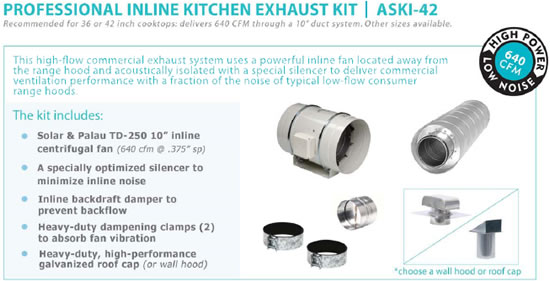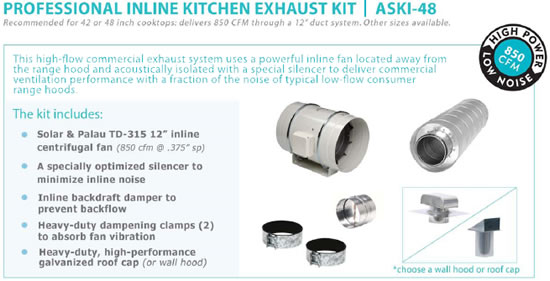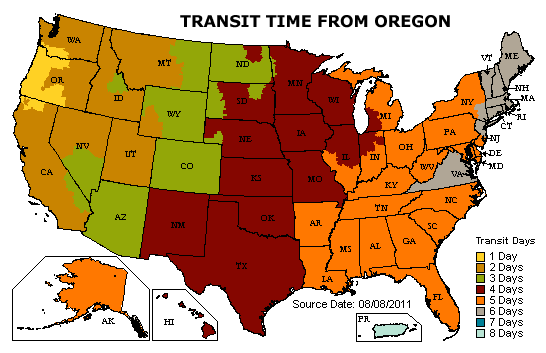 Do you have questions about the products on this page?

Click on the ? image on the left or this link to ask us your questions!
#1
Q: Can this Ventilation Kit be connected with Microwave Exhaust System instead of the plain exhaust hoods?
A: Yes, adapters are available to transition the outlet to a pipe that will hook to these fans.

Asked on 2014-08-07 by Maggie
#2
Q: I currently have a very loud fan through the wall as my kitchen exhaust system. How much work will be involved in installing this system? Carpenters? roofers? and electricians?
A: Minimally the electrician and roofer...Also, there will need to be attic near the kitchen as that is where the mechanical are located. The work wont be too involved, but it does depend on the existing infrastructure.

Asked on 2014-05-03 by ny
#3
Q: What is the sone rating for the ASKI-42?
A: Varies by install, but less than 5 when done correctly. The silencer and some distance help tremendously.

Asked on 2014-03-25 by Jeff
#4
Q: I have a tapered square opening in my kitchen ceiling leading to a square duct work through the attic to the roof. Will the ASKI 36 model work with this existing opening? What additional parts do I need? TY
A: This, and all our other kitchen kits would use round duct. The duct would need to be changed or adapted to round for a section to accommodate the fan and silencer.

Asked on 2014-02-18 by Mary
#5
Q: hi, Im trying to get the right exhaust fan for a 36 venthood that has a 460 cfm motor. the lenght of the ventilation duct is about 11 horizontal and 12 vertical and it will have 2 90s
A: That size hood will likely have a 8 inch connection, so the TD200 would both fit and provide the desired CFM

Asked on 2013-08-09 by Carlos
#6
Q: Will this system work with a downdraft through the floor system? I want to replace my existing fan in a Jenn air ( not powerful enough).
A: It will work, but be sure to get enough CFM as the downdraft theory is flawed. Always better to capture from above.

Asked on 2013-04-25 by Joe
Related Products
Stainless steel construction, with prewired switching for remote mounted fan. Features include dimmable halogen lights, fan speed control and removable aluminum filters for easy cleaning and maintenance.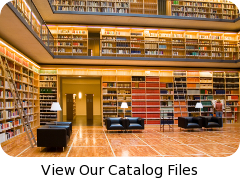 why buy from us?
We're engineers passionate about home ventilation and serious about customer service – so you can count on us for carefully-selected equipment and expert advice to ensure your project is a success from specification to installation.
Your call is answered by qualified people who will gladly discuss your project in detail, advise you professionally and never sell you inappropriate products.