Our Do-It-Yourself Help Section

See Archive On The Right For More Articles!



Wiring: 1 fan serving 2 baths with 1 switch per bath (with lights).


This How To focuses on applications where a single bath fan is ventilating 2 (or more) bathrooms and there is only a single (fan+light) switch available or desired in each bathroom.

Operation:
By turning ON the combined light+fan switch, the bathroom light will be turned on, and through the relay, the common fan will also be started. Similarly, the other bathroom switch will control its own light and through the relay also turn ON the common fan. The fan will be ON if either of the switches are in the ON position, and the fan will be off only if both light switches are in the OFF position.

Explanation:
The relays are used to isolate each light circuit from the other. You would not want to turn on a light/fan switch in one bathroom, and then have the other bathroom lights turn on.

Diagrams:
Two different diagrams are shown. Diagram A is the more general case in which lights L-1,L-2 and the fan are all powered by separate power sourcres. Diagram B is for the case where electrical power is common for all the lights and the fan (from the same source).
Diagram A: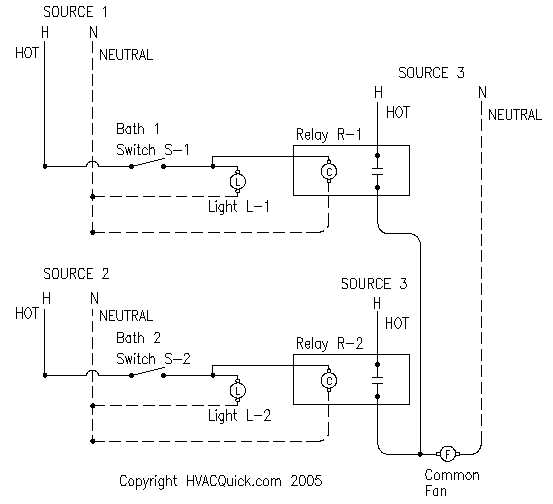 Diagram B: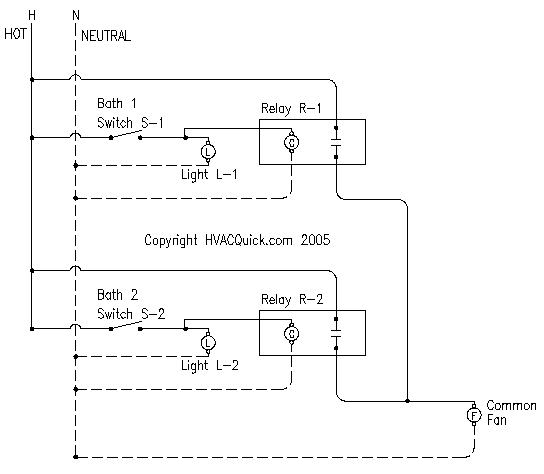 Parts List:
Other than the typical switches and wiring items, you will need 2 relays with 120 VAC coils and normally open (NO) contacts rated for at least 5 amps at 120VAC, inductive duty. If the fan draws more than 5 amps, then the relay should be sized accordingly.

Timers: Electronic timers

As always, if you would like to ask more questions about this or other technical topics give us a call at 877-711-4822 - 9-5 PST. Live people for technical and sales support - an Internet first!



Disclaimer:
Advice and information given through our representatives is checked for usability and conformance with most codes. You as the user, however, have the responsibility for verifying conformance with local codes and standards and ensuring a safe installation. Although HVACQuick.com may employ and use professionals, their advice is not meant as substitute for professional engineering services. It is the customer's responsibility to hire and retain suitable engineering and architectural professionals as required.