Fantech 5DDU Series Direct Drive Upblast Roof Ventilators

Fantech 5DDU Series Direct Drive Upblast Roof Ventilators
Fantech 5DDU direct-drive upblast ventilators are designed for continuous operation to exhaust foul air, smoke, fumes, odors and grease-laden vapors from range hoods and commercial cooking appliances. Ventilators are designed for installation in industrial, institutional and commercial kitchen roof and wall applications.
All models are UL 705 listed. All models except 5DDU085AY are UL 762 listed
Inlet temperatures up to 300°F
Backward inclined aluminum fan wheel
Externally cooled motor compartment
Fully welded windband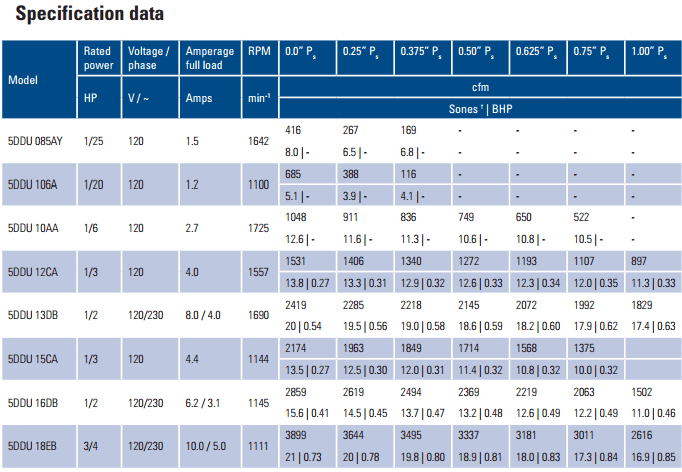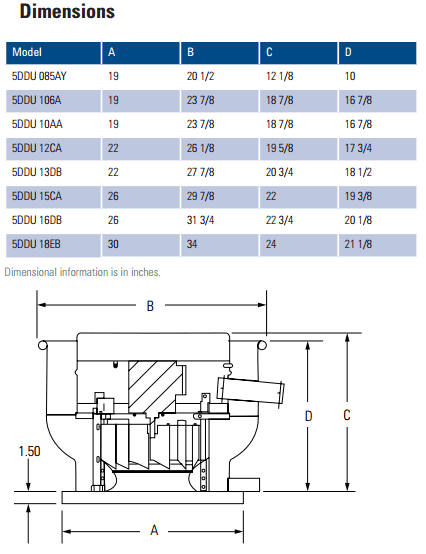 Video (click for youtube.com video):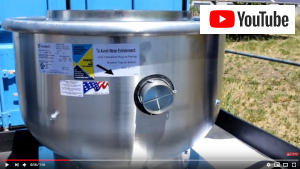 Catalogs and Manuals:
Installation Manual (PDF file)
Accessories Catalog (PDF file)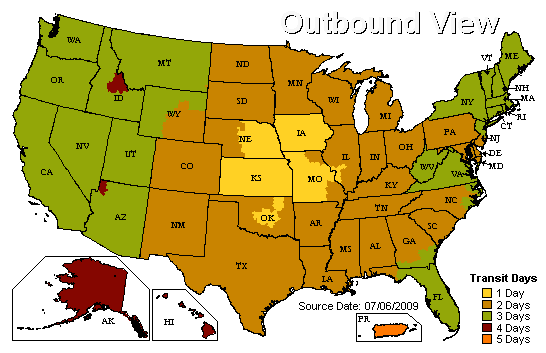 Do you have questions about the products on this page?

Click on the ? image on the left or this link to ask us your questions!
#1
Q: can model # 5ddu10aa be mounted on side wall and if so will curb still be required
A: Yes, roof or wall mounting is fine. You will need some way to attach it to the wall -- the base needs to wrap around some structure whether its a curb or something else.

Asked on 2020-09-04 by VINCE
#2
Q: Does it come with the base mounting bracket? And what is meant by curb mounted?
A: It comes with the square metal section (see picture) below the round fan section that goes on top of the roof curb. See images in the accessory manual for examples of a roof curb: https://www.hvacquick.com/catalog_files/Fantech_Commercial_Accessories.pdf

Asked on 2019-12-02 by Joey
#3
Q: Is there a internal wire chase in the 5DDU series fans?
A: There is a tube conduit internal that acts as a wire chase from base to motor.

Asked on 2019-10-31 by Ernie
#4
Q: I am interested in the 5ddu13 upblast. What size duct do I need?
A: It goes over a rectangular base (roof curb). Sizing is on the Specs tab and installation manual. Cap dimensions are 22x22 inches.

Asked on 2019-10-16 by JJ
#5
Q: I have a 1970s belt drive fan on a 2020 roof vent. Will the 20 1/2 fit? I am guessing that is O.D. of cap flange.
A: Not quite sure what a 2020 roof vent is. If its a 20x20 inch outside dimension roof curb then look for a fan with a larger A base dimension. There are 22x22 inch A dimension fans. Feel free to call with questions and we can go over sizing for you.

Asked on 2019-06-27 by Tom
#6
Q: Hi i am looking to purchase the 5DDU12ca, what would be this best size diameter duct to use at a 15 foot run.
A: 14 inch duct at 1450 cfm is only 0.2 inch WC pressure drop per 100 ft of duct so very reasonable resistance. I would stick with that or larger, as space allows. Keep bends, transitions and elbows to a min.

Asked on 2018-03-04 by MA
#7
Q: Can the 5DDU series fans be mounted directly on a 3/12 pitched roof without a roof jack?
A: No. Its designed to be curb mounted.

Asked on 2017-05-08 by Doc
#8
Q: Im interested in purchasing the 18 size of this fan. Is it available in 230v?
A: Yes, that is a dual voltage motor so it can operate on either 120/230 VAC depending on how it is wired. 1 phase.

Asked on 2016-09-02 by Adam
Related Products
Direct-drive downblast ventilators for low to moderate static pressure conditions. All models are UL 705 listed.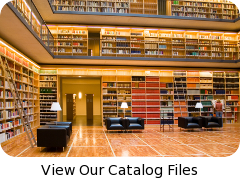 why buy from us?
We're engineers passionate about home ventilation and serious about customer service – so you can count on us for carefully-selected equipment and expert advice to ensure your project is a success from specification to installation.
Your call is answered by qualified people who will gladly discuss your project in detail, advise you professionally and never sell you inappropriate products.