HVACQuick IFVB Series V-Bank Insulated Inline Filter Boxes

HVACQuick IFVB Series V-Bank Insulated Inline Filter Boxes
HVACQuick's IFVB series of inline filter boxes are a great solution for any application requiring high MERV and low pressure drop inline filtration. Available with flanges to fit 8, 10, 12, 14, 16, 18 or 20" ducts. The 20" collars are spun aluminum and shorter than the smaller sizes. The filter access door attaches securely with latches, and opens easily for filter replacement. The boxes are constructed from 0.040 aluminum and insulated with 1" of R4.3 fibreglass ductboard* (*insulation on 4 sides, not on collar connections).
The IFVB boxes use 14x20" replaceable filters in 2" thickness (13.5x19.5x1.75" actual filter size). 2 filters are required per box. MERV-13 filter set is included with purchase.
Does your application require higher arrestance or carbon filtration? Call us!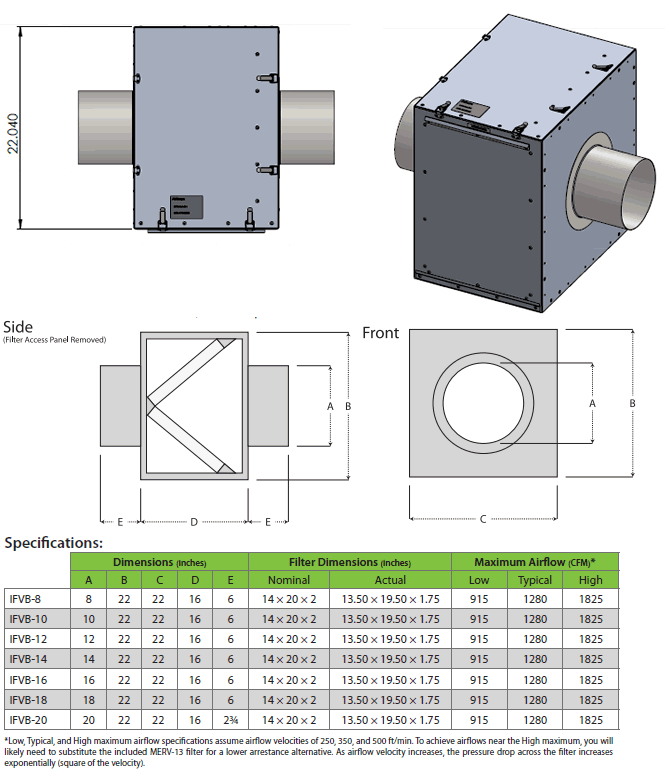 Shipping weight 18 lbs
Shipping weight 18lbs. Box dimensions 26x26x20.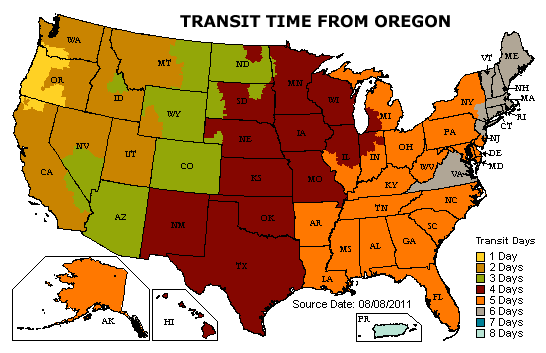 Do you have questions about the products on this page?

Click on the ? image on the left or this link to ask us your questions!
#1
Q: Hello, If I am running a 20 inch inline fan that moves ~4600cfm as an intake for a grow room but the Max cfm on this 20 unit is 1825cfm do I assume correctly this is not compatible for my needed use? Can you suggest examples of how I may HEPA filter my fan
A: The IFVB comes with MERV-13 filters, not HEPA. You would need a box with far more filter area. You can use the IFWB-14 which has 16 sq.ft of filter area and leave off the 14 inch round transitions -- make your own transition from the square box to the round duct. https://www.hvacquick.com/products/residential/Indoor-Air-Quality/Inline-Filter-Boxes/HVACQuick-IFWB4-Series-W-Bank-Insulated-High-Flow-Inline-Filter-Boxes

Asked on 2022-02-23 by Mitch
#2
Q: What size filter box would I need for 800 CFM?
A: That will typically be an 8 or 10 fan/duct so I would get a box to match. If you have a choice then go with the bigger inlet size as that will give a better airflow distribution to the filter media.

Asked on 2018-02-08 by Brian
Related Products
Filter boxes for inline filtration. Available in sizes to fit 4, 5, 6, 8, 10, 12 or 14-inch ducts. 22-gauge galvanized steel construction. MERV-6 polypropylene filter media.

Fantech inline filter box with 6 inch duct connections. Commonly used with HRV/ERV units to filter incoming fresh air.

Air handler for general purpose filtration. Aluminum with R-4 insulation. MERV-6, MERV-13, MERV-15 (near HEPA) filtration options. 1600 or 1930 CFM at 0.5 inches W.C.

Accumulair DIAMOND Series MERV 13 Filters - 2 inch thickness. APR 1950 Rating.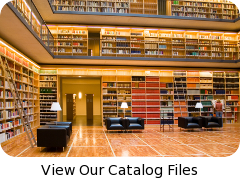 why buy from us?
We're engineers passionate about home ventilation and serious about customer service – so you can count on us for carefully-selected equipment and expert advice to ensure your project is a success from specification to installation.
Your call is answered by qualified people who will gladly discuss your project in detail, advise you professionally and never sell you inappropriate products.