Tjernlund LB2 Dryer Boosters

Tjernlund LB2 Dryer Boosters
Dry your clothes faster and prevent lint build up with the LB2 Dryer Duct Boosters. Clothes dryers are often installed in areas of homes where they cannot work effectively leading to long drying times, high energy use, and lint buildup in ductwork. If a dryers exhaust duct run is over 25 equivalent feet and the dryer is experiencing long drying time, your dryer may need a Dryer Duct Booster fan as moist air cannot effectively exit the dryer and exhaust to the outside.
Unlike traditional in-line fans which can clog with lint, the Lint Blitzer impeller is designed to repel lint while providing optimum velocity. 5 year no clog, no maintenance guarantee. Permanently lubricated motor positioned out of the air stream for maximum motor life. The Dryer Duct Booster maintains proper exhaust velocities in duct runs up to 100 equivalent feet, optimizing dryer performance.
The LB2 includes a status panel and meets UL 705 DEDPV & IRC-2015 requirements.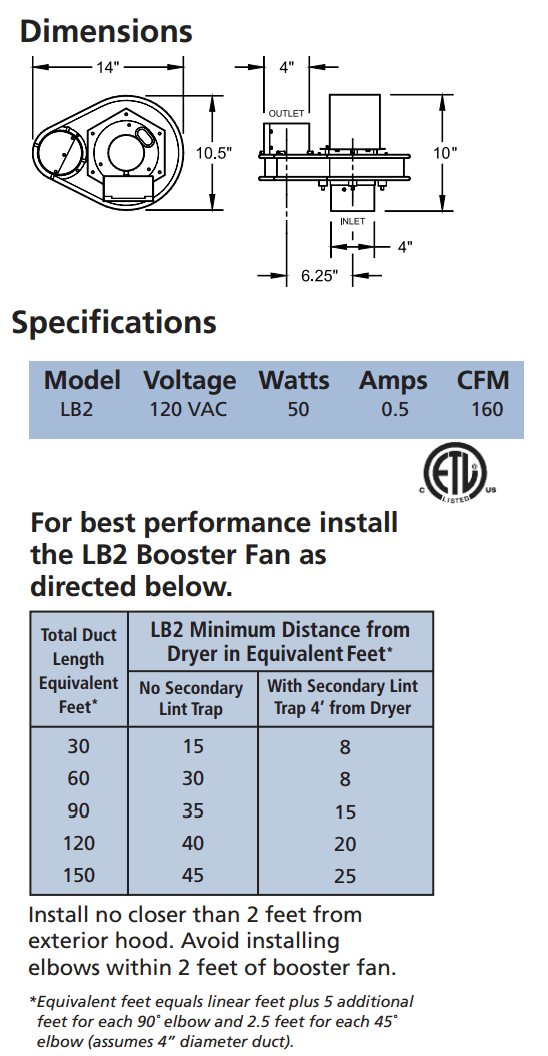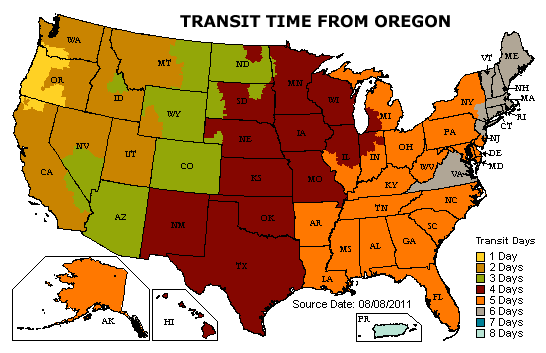 Do you have questions about the products on this page?

Click on the ? image on the left or this link to ask us your questions!
#1
Q: What fan do I need for two (2) dryers and 8 dia.ductwork?
A: These are designed for a residential single dryer application with 4 inch ductwork. They will sense incorrect pressure and not operate properly on your application.

Asked on 2019-07-07 by Rusty
#2
Q: Hi,Can this be installed in a drop ceiling? Also, what conditions make it necessary for adding a lint trap? Thanks
A: The lint trap is required if the fan is installed closer than 15 equivalent feet from the dryer outlet. There is a chart on the Specs tab that gives more details. If you have enough space above the drop ceiling then thats fine. Be aware that the fan does make some noise.

Asked on 2018-09-16 by Neil
#3
Q: Does this come with everything needed, ie sensor, mounting hardware
A: Includes booster fan, pressure activation switch, STATUS PANEL and plug-in cord as stated. Fully functional booster package.

Asked on 2018-07-14 by Jim
#4
Q: Will this work to vent out multiple dryers at the same time?
A: No, its sized to vent 1 dryer at a time.

Asked on 2017-12-08 by Steve
#5
Q: does it come with mounting hardware?
A: There are more details in the installation manual (http://www.hvacquick.com/catalog_files/Tjernlund_LB2_Dryer_Booster_Fan_IOM.pdf) but you get: : (1) LB2 wired fan assembly (1) Notification Panel with cable (1) 16 gauge galvanized steel mounting bracket (1) mounting hardware packet. Packet has wood screws, bolts for the mounting bracket.

Asked on 2017-01-08 by peter
#6
Q: Will a bath room exhaust fan sharing then same duct and connected to the outlet duct at about 5 from the booster,cause false sensor readings?
A: By code, kitchen and laundry must go all the way out of the house on a dedicated line for each. You may share vents between baths, or other general vent points, but not dryers or range hoods.

Asked on 2016-07-19 by Dennis
#7
Q: can fan be installed outdoors on flat roof?
A: No, these are not rated for outdoor installation/exposure.

Asked on 2016-06-15 by emmet.
#8
Q: What is the difference between the LB1 and LB2?
A: The LB2 adds an indicator panel at the dryer to inform it is running, and also is UL listed under UL705 guidelines.

Asked on 2015-11-18 by Ed
#9
Q: Is the Tjernlund LB1 dryer booster CSA approved and UL rated?
A: ETL listed. Plus UL507, CSA 22.2 NO. 113-M according to the installation manual. Thanks.

Asked on 2014-10-18 by Brian
#10
Q: Does it come wired with the cord attached?
A: Yes, a wired plug-in cord is included.

Asked on 2014-10-14 by Tim
#11
Q: My dryer vent duct is PVC pipe. Will I be able to make this booster fit and work with that?
A: Yes, just use rubber boot couplers to connect to the pipe.

Asked on 2014-08-25 by Raw-B
#12
Q: The illustrations all show installation with rigid ductwork. Can this be used with the flexible ductwork typical of dryers? We want to put it in the actual laundry room. Attic access is very difficult in our house.
A: These units need to be at minimum 15 feet fro the dryer to operate correctly. There are sensors on board that will get false readings if it is too close.

Asked on 2014-03-28 by Mickey
#13
Q: Can this be used on a gas dryer?
A: Yes it can, suitable for gas or electric.

Asked on 2014-01-25 by Chris
#14
Q: how close to the end of my dryer duck can i install the fan i only have about 3ft of clearance between my ceiling and roof in my attic
A: It needs to be 15 feet from the dryer and 5 feet from the exit point.

Asked on 2014-01-03 by mark s
#15
Q: Is it okay if I have the dryer booster 8-10 linear feet from the dryer, if there is one 90 and a 45 in between the dryer and booster? I have heard that a 90 adds five linear feet, and a 45 adds 2-3 feet? Just curious because I saw the previous question and answer, being a minimum of 15 feet.
A: The farther the better, but I would be 10 feet at minimum. You also will want 3 pipe diameters distance from the elbow. i.e. 4 inch pipe dictates 12-15 inches away.

Asked on 2013-08-13 by professor plumb
#16
Q: HOW DO YOU KNOW THE FAN IS WORKING FROM INSIDE THE HOUSE? IS THERE ANY KIND OF INDICATOR LIGHT?
A: Typically it can be heard running in the background, not overly loud, but you can hear some air noise over the dryer. The Fantech DBF4XLT does have an indicator panel if needed

Asked on 2013-04-12 by JKT
#17
Q: Is the automatic switch built-in or do I have to install it into the existing vent pipe?
A: The LB1 automatic switch is built into the unit. Its self contained.

Asked on 2013-04-09 by Stuck in Houston
#18
Q: Can I mount it horizontally in my garage?
A: Yes, the fan can be mounted in any position, aside from upside down.

Asked on 2013-04-04 by Scott
#19
Q: How long is the power cord?
A: The included power cord is 6 feet on this unit.

Asked on 2013-04-04 by Mia
#20
Q: How close can I mount this fan to the dryer?
A: The LB1 needs to be 15 feet or more from the dryer, but also more than 5 feet from the discharge cap.

Asked on 2013-04-04 by Bruce
Related Products
Fantech boosters are all suitable for most dryer boosting applications and can be used for maximum duct length of 60 linear feet with a maximum of six elbows using four inch rigid duct.

Plastic and metal Dryer Vent Boxes with snap on trim ring. Available in two sizes: 4" (for a 2x4 wall) or 6" (for a 2x6 wall) .

Made from polished stainless steel for durability. Designed for exterior applications in dryer, bathroom, or kitchen exhaust venting.

Vent caps suited to exhaust fan applications such as dryer, bathroom, or kitchen exhaust venting. Standard with flapper damper.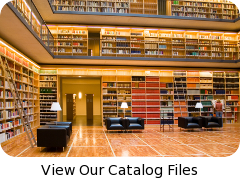 why buy from us?
We're engineers passionate about home ventilation and serious about customer service – so you can count on us for carefully-selected equipment and expert advice to ensure your project is a success from specification to installation.
Your call is answered by qualified people who will gladly discuss your project in detail, advise you professionally and never sell you inappropriate products.