Fantech RE Exterior Fans
The RE/REC Series of direct drive centrifugal fans provide an excellent solution for residential or commercial ventilation applications where the fan must be mounted on the exterior of the building. Two base styles are available: RE models with a flat base for direct flashing to the roof or REC models with flanged base for curb mounting. RE models can also be mounted on an exterior wall when roof access is not suitable.
100% speed controllable
Suitable for airstream temperatures of up to 140° F

Built-in thermal overload protection with automatic reset

Five-year warranty
AMCA Air, AMCA Sound and cULus certified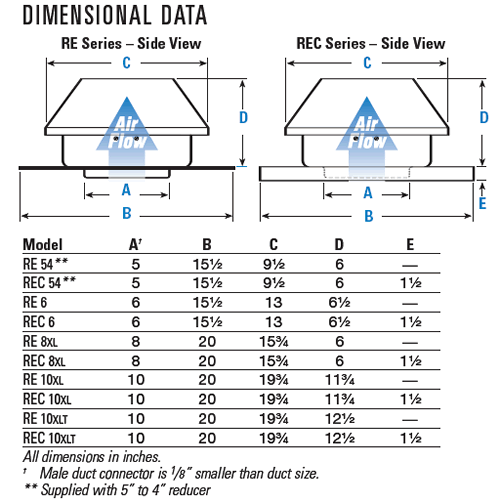 Stocked in both Oregon and New York state. See transit maps below.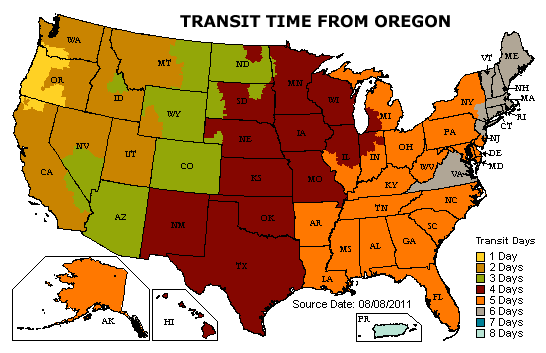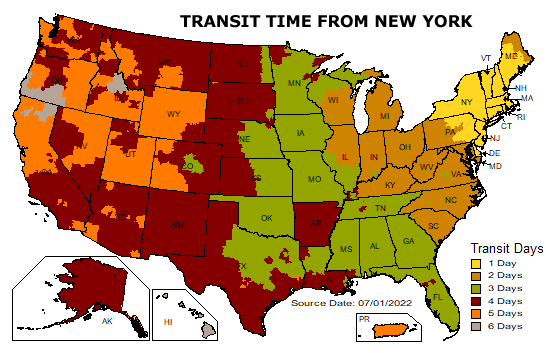 Some products might ship from multiple warehouses.
Do you have questions about the products on this page?

Click on the ? image on the left or this link to ask us your questions!
#1
Q: Can the RE 8XL be installed upside down on a Soffit or below an eave?
A: Not recommended. Any condensation in the duct or fan would collect and pool in the cap.

Asked on 2020-10-06 by Devin
#2
Q: Why do the specs refer to static and not cfms? What would be the CFM equivalent be for the be for the RC6 model with a 4 duct and 10 run?
A: The specs show CFM at a few static pressure points. RE6 with 4 inch duct and a grille will get you 155 to 170 CFM. That fan is meant to be used with 6 inch ducting.

Asked on 2019-08-17 by cvongugg
#3
Q: Do these Fantech RE Exterior fans have a damper?
A: There is no damper included in the RE series.

Asked on 2019-08-09 by Dana
#4
Q: Looking at rec10xl does that come with the roof curb and back draft damper if not please price.
A: It does not come with a roof curb. Use the 5ACC19FS curb that is shown on the same page at the bottom of the list (including pricing).

Asked on 2017-03-07 by Mike
#5
Q: Do you have a decibel level for the 8 inch rooftop fan?
A: Fantech only publishes Sones sound ratings for these. See the catalog PDF or the specs area.

Asked on 2017-02-05 by Clint
#6
Q: Do you have a decibel level for the 8 inch rooftop fan?
A: Fantech only publishes the sone sound rating. 8.9 sones at 0.5 inches of static. You typically want a silencer or flex duct (depending on application) to quiet the fan down.

Asked on 2016-12-17 by Clint
#7
Q: what is the significance of attaching to a roof curb, as opposed to none?
A: The curb is used on flat roofs where there may be reason to elevate it from water and/or to be able to seal it to the roof. The regular one flashes in under the shingles for its seal.

Asked on 2014-04-01 by Ken
#8
Q: Regarding the re10xl and xlt, are these single speed units or multi-speed fans?
A: These fans are variable speed that can be hooked up to controller to vary the speed.

Asked on 2013-11-23 by joe
Related Products
Airtight galvanized sheet metal housing (unpainted). Direct drive external rotor motorized impeller assembly. Speed controllable. Installs in any orientation.

An exterior mount fan for installation on outside walls. Galvanized sheet metal housing with baked powder coat finish. Speed controllable. Standard and EC motors.

Fantech fan speed controls, thermostats, humidistats and pressure switches. For standard motor (non-EC motor) fans.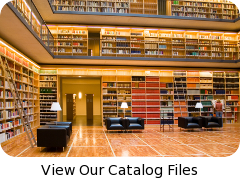 why buy from us?
We're engineers passionate about home ventilation and serious about customer service – so you can count on us for carefully-selected equipment and expert advice to ensure your project is a success from specification to installation.
Your call is answered by qualified people who will gladly discuss your project in detail, advise you professionally and never sell you inappropriate products.