Fantech prioAir Inline Duct Fans

Fantech prioAir Inline Duct Fans
Fantech prioAir fans are multi-purpose, high-efficiency inline duct fans that move high volumes of air with low energy. Ideal for long ventilation ducts in low static pressure settings.
• High efficacy (cfm/W) ratio
• Ideal fit for false or drop ceilings
• 100% leak-free fan
• Built-in thermal overload protection with automatic reset
• Operable in air stream temperatures up to 131°F
• AMCA air & sound certified
• Low ambient noise for quieter operation
• Mounting bracket included
• Five-year factory warranty
General application examples for the prioAir fans include supply or exhaust air duct systems in commercial buildings, schools, gymnasiums, commercial bathrooms, manufacturing facilities with extended ductwork, residential attached garages, extra-long duct boosting needs, and crawlspaces.
Speed controllable via an optional solid state speed controller such as the WC 15 rotary switch.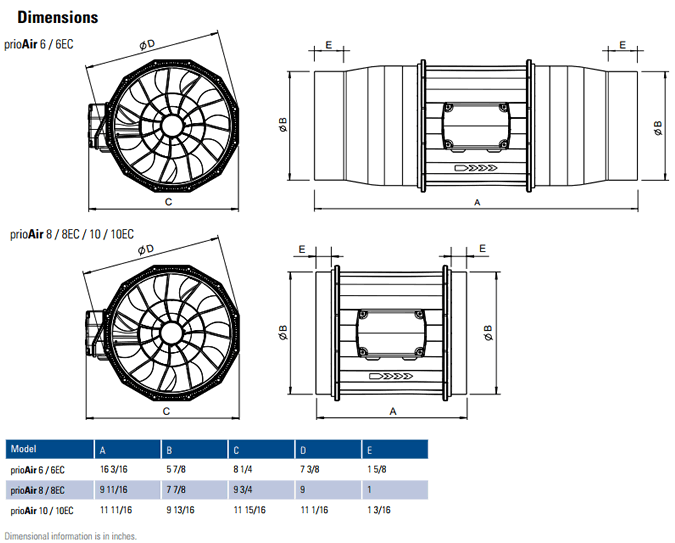 Stocked in both Oregon and New York state. See transit maps below.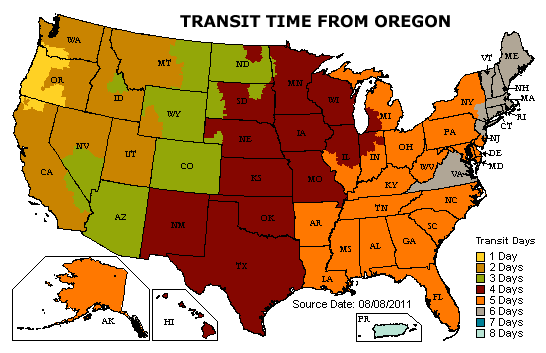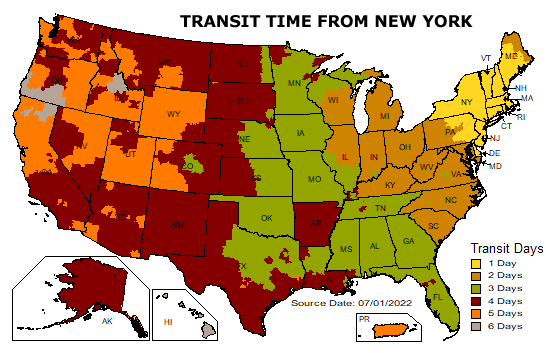 Some products might ship from multiple warehouses.
Do you have questions about the products on this page?

Click on the ? image on the left or this link to ask us your questions!
#1
Q: Your description says that you can use any 120V solid state fan controller but the manual for the EC models says that you have to use a 10V EC fan controller. The diagram appears to show that you wire up a 120V power source and then wire a fan controller separately to the 10V circuit. Can you control the speed via the 120V power source using a WC 15 rotary switch?
A: The EC fans are not available at this time. Standard PrioAir can be regulated with normal 120V speed control such as WC15.

Asked on 2023-02-14 by Ben
#2
Q: I have a two prioair 10 in fans. I need two more mounting clamps as the unit needs to be more securely mounted to reduce vibration. How do I order these?
A: If you are referring to the neoprene/metal Fantech clamps, they are the FC series. FC 10 for your 10 inch fans. Link here: https://www.hvacquick.com/products/residential/Ventilation-Accessories/Duct-Accessories/Fantech-FC-Duct-Clamps-and-Cable-Ties

Asked on 2021-02-12 by Steve
#3
Q: Does the fan have any steel in it?
A: Yes, motor and shaft components will have steel content.

Asked on 2018-07-10 by Pam
Related Products
EC motor mixed flow inline fans. 6 to 16 inch sizes. 0-10V speed controllable.

Mixed flow inline fans. 6 to 16 inch sizes. 3-speed switch and power cord included.

Airtight galvanized sheet metal housing (unpainted). Direct drive external rotor motorized impeller assembly. Speed controllable. Installs in any orientation.

Airtight galvanized sheet metal housing (unpainted). Direct drive external rotor motorized impeller assembly. EC-motors for high level of efficiency.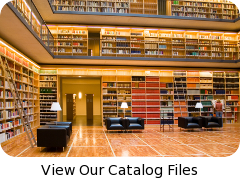 why buy from us?
We're engineers passionate about home ventilation and serious about customer service – so you can count on us for carefully-selected equipment and expert advice to ensure your project is a success from specification to installation.
Your call is answered by qualified people who will gladly discuss your project in detail, advise you professionally and never sell you inappropriate products.