HVACQuick IFB Steel Inline Filter Boxes

HVACQuick IFB Steel Inline Filter Boxes
HVACQuick's IFB series of inline filter boxes are a straightforward solution for any application requiring inline filtration. Constructed from 22-gauge galvanized steel. Lids attach securely with latches, and open easily for filter replacements. MERV-6 polypropylene filter media is shaped for maximum airflow.
LIMITED QUANTITIES AVAILABLE. SEE IFBA MODELS FOR ADDITIONAL SIZES.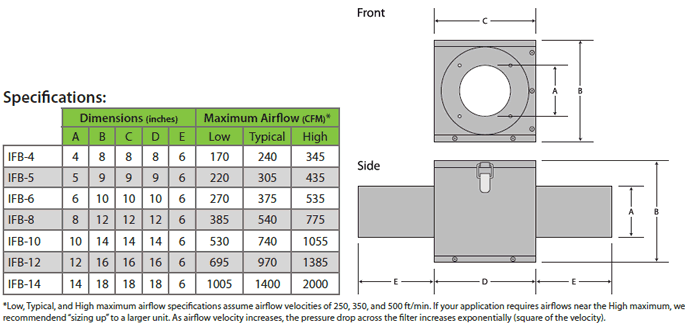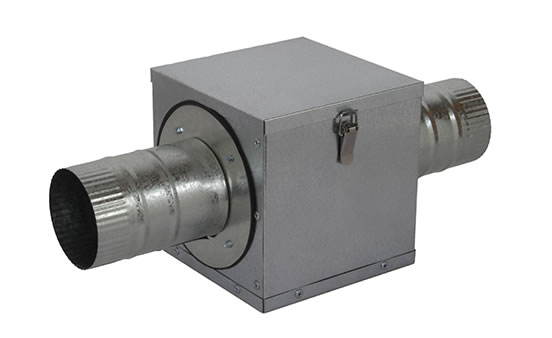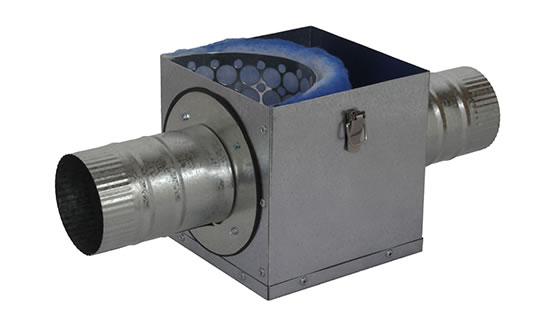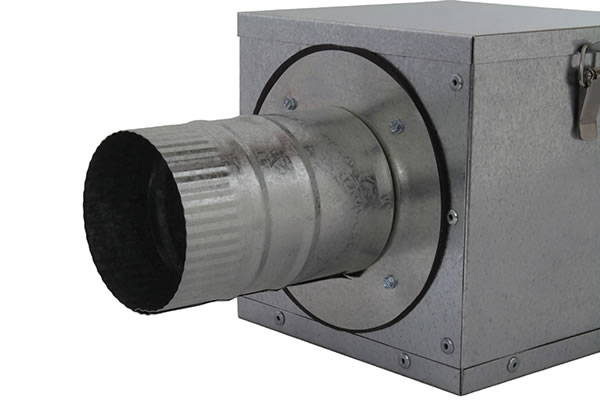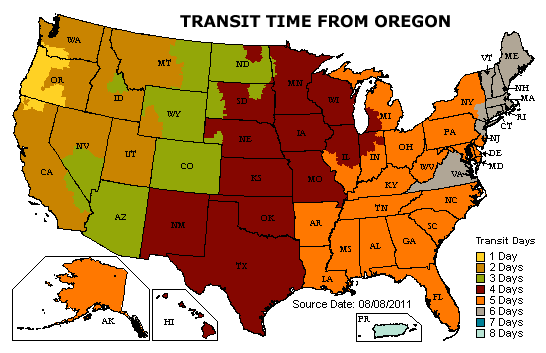 Do you have questions about the products on this page?

Click on the ? image on the left or this link to ask us your questions!
#1
Q: Where can I get new filter media?
A: Sold on the same page as the IFB. Look for the IFMEDIA products below.

Asked on 2022-08-29 by TCKC
#2
Q: Can this unit use off-the-shelf filters, available at say, home depot?
A: We have not seen this material at HD. You can buy the material online in bulk and cut it down to size.

Asked on 2022-05-27 by steve
#3
Q: Can the 4in inlet and outlet be removed from the box and replaced with shorter connections? Also how much does one off these boxes weigh?
A: The IFB 4 weighs 6 lbs. You can trim the connection collar or unscrew and pull it off if required.

Asked on 2022-04-20 by Hunter
#4
Q: Can the IFB-8 be mounted with screws through the bottom plate
A: Yes, no problem. Its a flat sheet metal bottom.

Asked on 2022-04-02 by Jon
#5
Q: Hello. Re: IFB-8. Can this unit get a higher Merv rated filter? I would like Merv 8 or 11 if possible.
A: There is no other media available for the IFB. For higher MERV ratings looks at the CFB series. https://www.hvacquick.com/products/residential/Indoor-Air-Quality/Inline-Filter-Boxes

Asked on 2022-02-13 by Paul
#6
Q: will this work ok with a venmar solo 2.0 HRV?
A: The IFB-6 recommended range is well within the max CFM of that HRV (190 cfm).

Asked on 2021-05-06 by Randall
#7
Q: How high temperature can the sheet metal box itself handle? I mean I dont use the built-in filter, but using some other stainless steel filter.
A: Not recommended for over 140 F. The flanges have adhesive flange seals etc.

Asked on 2021-01-15 by Wen
#8
Q: Does it matter if its placed on the intake or exhaust side of the fan?
A: It does not matter physically. Typically these are on the suction (intake) side of the fan to filter any contaminants before they go through the fan.

Asked on 2020-08-14 by Kyle
#9
Q: What is the part number/link for the replacement media?
A: Same page, just towards the bottom of the list. Part number is IFMEDIA-4 where the 4 designates the media for the 4 inch box, etc.

Asked on 2017-04-13 by Sean
#10
Q: Will the filter material handle temperatures to 100 degrees F (40C)?
A: Yes, 100F is fine.

Asked on 2017-01-10 by alec
#11
Q: Can this unit be used in a house as an additional lint filter for an electric clothes dryer?
A: No. You want a lint trap such as the Fantech DBLT 4W: http://www.hvacquick.com/products/residential/Dryer-boosting/dryer-booster-fans/fantech-dryer-boosters

Asked on 2016-01-17 by Sean
Related Products
Filter boxes for inline filtration. Available in 4, 5, 6, 8, 10, 12 or 14-inch sizes. Aluminum construction. MERV-6 polypropylene filter media.

Filter boxes for inline filtration. Models for 6, 8, 10 or 12 inch ducts. Aluminum construction. 4 inch MERV-13 filter included. MERV-15 (near HEPA) and carbon filters available.

Filter boxes for inline filtration. R5 insulated. Fits 6, 8, 10, 12, 14, 16, 18 or 20 inch ducts. Aluminum box construction. 2 inch MERV-13 filters included.

Fantech inline filter box with 6 inch duct connections. Commonly used with HRV/ERV units to filter incoming fresh air.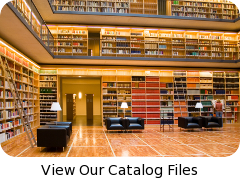 why buy from us?
We're engineers passionate about home ventilation and serious about customer service – so you can count on us for carefully-selected equipment and expert advice to ensure your project is a success from specification to installation.
Your call is answered by qualified people who will gladly discuss your project in detail, advise you professionally and never sell you inappropriate products.