Aldes FAK-II and FAK-II-MD Fresh Air Kits

Aldes FAK-II and FAK-II-MD Fresh Air Kits
American Aldes Fresh Air Kits are ideal for use with forced-air heating or cooling systems. FAK-II Kits introduce controlled amounts of fresh air per ASHRAE 62 Standards.
The key element of the FAK-II is the integrated, pressure-independent Constant Airflow Regulator (CAR-II) that limits the volume of fresh air introduced to the forced air conditioning or heating system. Once connected to the return plenum of a forced-air system, each FAK-II has 3-4 adjustable CFM settings so that homes are not over-ventilated (wasting energy) or under-ventilated (poor Indoor Air Quality).
The FAK-II-MD adds a 24V motorized damper (over the FAK-II) that can be interlocked with the forced air system to prevent airflow when the system is not running. Additionally, each kit includes a CAR-II, a galvanized steel sleeve, and a galvanized steel all-weather wall hood.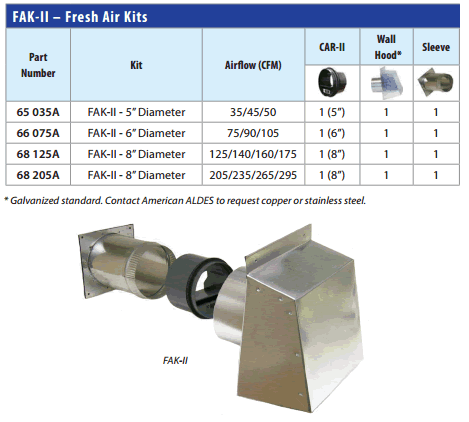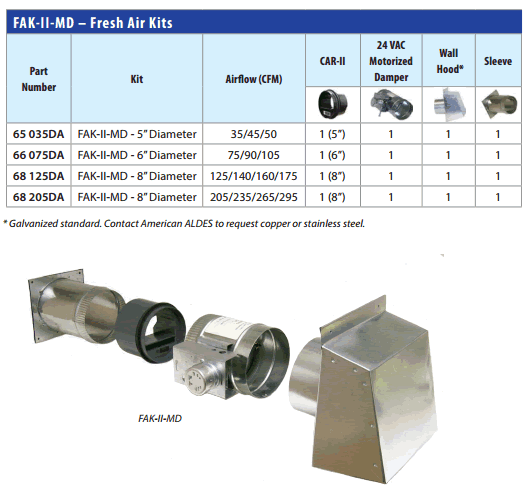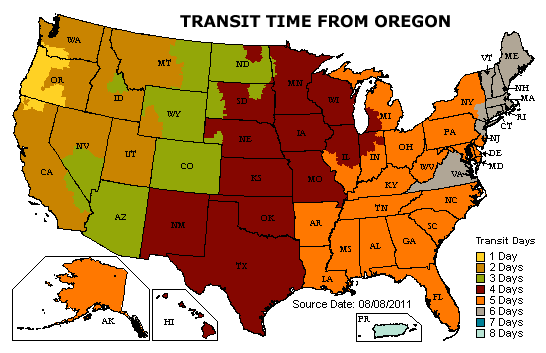 Related Products
AIRLET through-wall make-up air inlets. Available in round, rectangular, self-regulating, adjustable, filtering, sound-attenuating, and humidity or temp compensating models.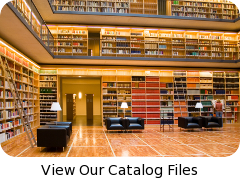 why buy from us?
We're engineers passionate about home ventilation and serious about customer service – so you can count on us for carefully-selected equipment and expert advice to ensure your project is a success from specification to installation.
Your call is answered by qualified people who will gladly discuss your project in detail, advise you professionally and never sell you inappropriate products.