Suncourt HC500 Flush Mount Register Booster

Suncourt HC500 Flush Mount Register Booster
The Suncourt Flush Fit Smart Register Booster quietly boosts heated or cooled air to a room to improve circulation and comfort. This register booster features a built-in temperature sensor and works automatically with forced air systems. The Flush Fit Smart Register Booster's quiet 5-speed; dual fans pull extra air out of weak registers, boosting airflow by up to 85%. It is a simple, energy efficient and safe solution for rooms that are too hot or too cold.
Patent pending self-learning technology turns the register booster on and off with your heating and air conditioning system. No programming necessary!
• Set-Up in seconds: plug-in, set on register and go
• No seasonal temperature settings necessary
• 5 fan speed settings, up to 132 CFM, for maximum control and comfort
• Fits in a standard 4 in. by 10 in. register; adaptor plate, model HC5PL1, sold separately for sizes 6 x 10 in., 6 x 12 in. and 4 x 12 in
• Can be installed in floor or wall registers. Installing in a ceiling register is not recommended.
• Fits flush with the floor or wall for a clean contemporary look
• Low voltage, safe for children and pets
• 12 month limited warranty
• Assembled in the USA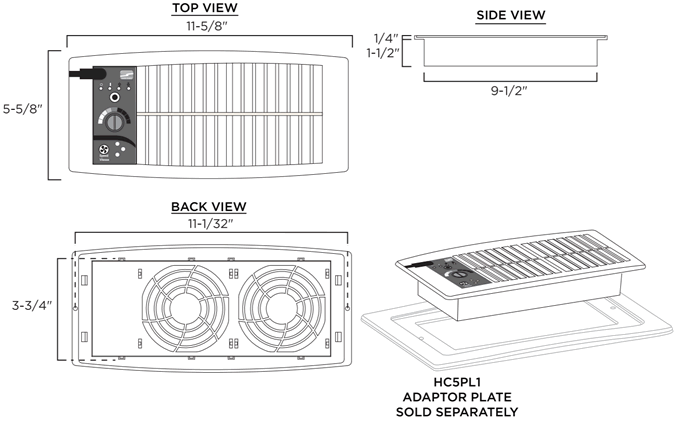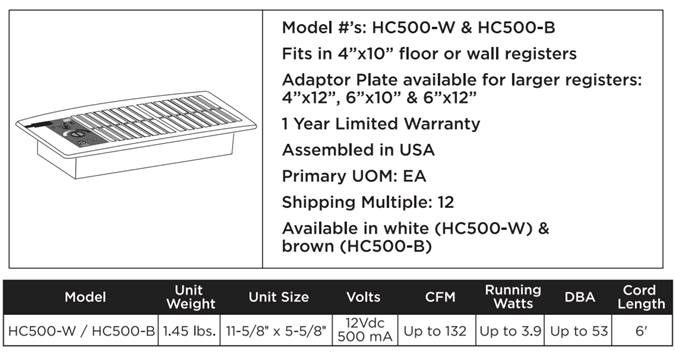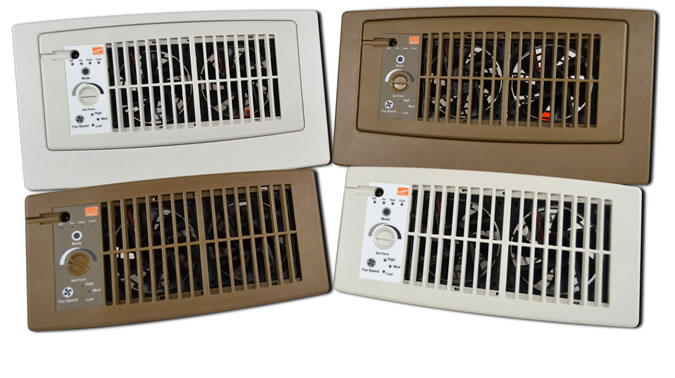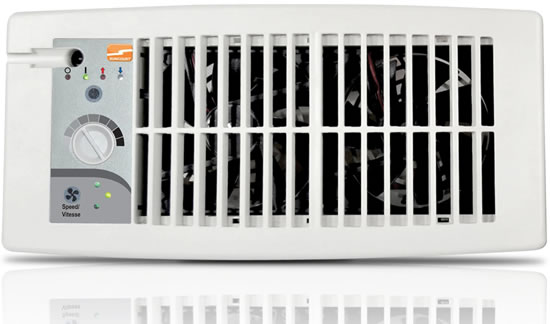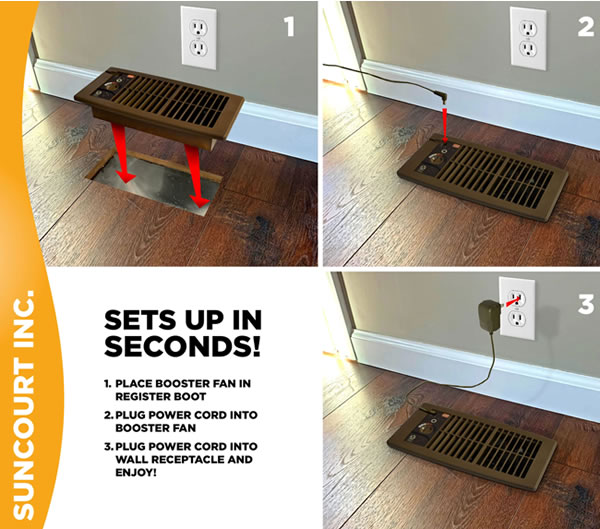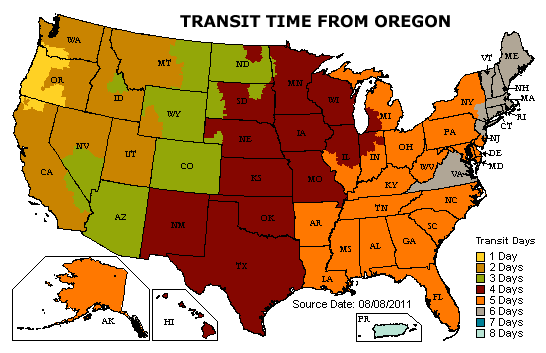 Do you have questions about the products on this page?

Click on the ? image on the left or this link to ask us your questions!
#1
Q: I have a room that gets too much heat in winter but not cool enough in the summer. So I would use this in the summer to bring in more air conditioning.
A: You can set the booster to operate only during cooling. The rest of the time it will not operate.

Asked on 2021-02-22 by Heather
#2
Q: I noticed that one of the products increases air flow by 80%. Can you tell me the percentage of air flow this would increase my vent to, approximately. I do not know how much 132cfm would be. Thank you for your time.
A: They can boost airflow by up to 85%.

Asked on 2020-07-09 by Fred
#3
Q: Does this take in air or blow out air?
A: The top face with the controls that you see in the picture is where the air is being blown out of.

Asked on 2020-06-19 by Carolina
#4
Q: Is this product plastic or metal?
A: These are plastic cased.

Asked on 2019-10-17 by Chuck
#5
Q: Does this require constant power?
A: Yes, its meant to be plugged into an outlet at all times.

Asked on 2019-07-25 by James
#6
Q: It there a temperature limit that these are rate for?
A: Souncourt rates them as 140 F max. See installation manual for details.

Asked on 2019-01-06 by Davroostr
#7
Q: Clearly this is designed to increase the discharge air flow from a supply air register. I however need to adapt an application to transfer air through a transfer duct. Can the forced airflow direction be reversed to draw air into the register as opposed to pushing air out of the register?
A: No. You cannot reverse the direction of the airflow. See if this is what you are looking for: https://www.hvacquick.com/products/residential/AirFlow-Boosting/Room-to-Room-and-Register-Boosters/Tjernlund-AireShare-Level-to-Level-Ventilator

Asked on 2018-12-12 by Dennis
#8
Q: I dont have a forced air system, I just want to use this to draw warm air up from the basement in the winter through a hole I cut in the floor. Will the passive warm air rising up through it be enough to automatically start the fan? If not, is there a way to manually turn the fan on?
A: Passive warm air is not enough to automatically start the fan. But there is a continuous running mode setting so you can use that to manually run the fan.

Asked on 2018-11-13 by R
#9
Q: Is this controlled with a thermostat to turn on /off?
A: It has a built in thermostat that senses when hot/cold air is coming from the furnace. See more info on the settings here: https://www.hvacquick.com/catalog_files/Suncourt_HC500_IOM.pdf

Asked on 2018-11-06 by Brian
#10
Q: CFM please.
A: 132 cfm per factory.

Asked on 2018-10-26 by Dodie
#11
Q: My opening is 4 X 11 5/8 The specs say 11 5/8 X 5 5/8. According to that measurement it would fit lenght wise but not width wise. Is that a typeo? Should it be 3 5/8 on the width?
A: The spec you are looking at is the overall size of the booster. The portion that slides into the opening is smaller and fits 4x10 openings. Not a typo. You would need the adapter plate for your size opening.

Asked on 2014-12-06 by Steve
#12
Q: Will this work with ceiling install?
A: No, it is for floors only with no real fastening mechanism.

Asked on 2013-06-09 by Chuck
Related Products
Install into home or office ductwork. Operate by wiring directly to the main blower of your heating/cooling system, an on/off switch, a speed controller, or Suncourt's DuctStat plug-in thermostat.
Suncourt's HC600 EZ8 register booster increases airflow to under performing registers. Fits any register that is 6x12 inch or smaller. 8 fan speed settings.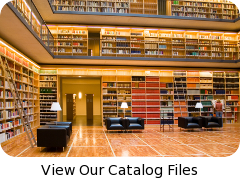 why buy from us?
We're engineers passionate about home ventilation and serious about customer service – so you can count on us for carefully-selected equipment and expert advice to ensure your project is a success from specification to installation.
Your call is answered by qualified people who will gladly discuss your project in detail, advise you professionally and never sell you inappropriate products.