S&P Dryer Booster Fans
S&P offers the perfect solution to increase dryer efficiency, the PV-100x Dryer Booster fan (part of the DBF booster kit). The PV 100x has been specifically designed to handle dryer boosting applications and helps you save on drying time, moisture build up, wear and tear on your dryer, and on your electrical bill. The centrifugal blade designs are able to overcome extreme resistance for even the most challenging installations. The PV offers a totally enclosed motor which ensures long, trouble free life. The PV series is the right choice for enhancing the performance of your clothes dryer.
The PV-DEDPV is a cULus 705 listed dryer exhaust duct power ventilator and complies with IRC and IMC codes.
Available with either pressure or current switch for fan activation.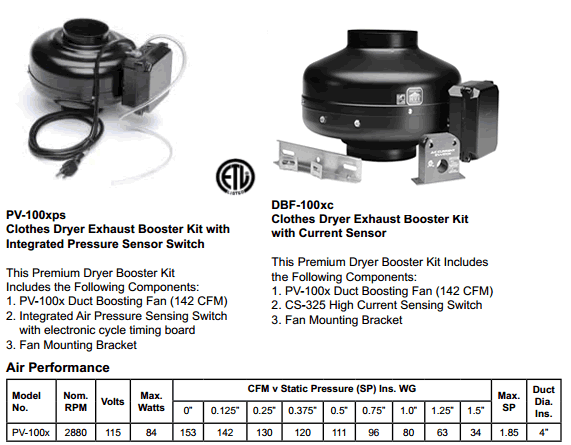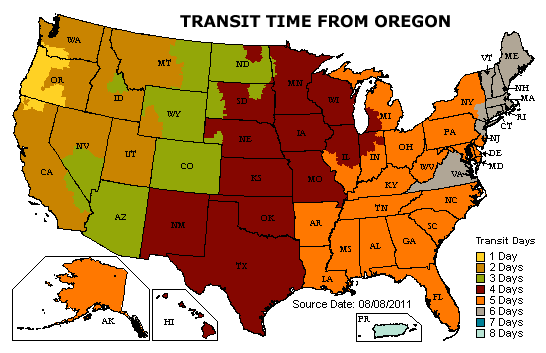 Do you have questions about the products on this page?

Click on the ? image on the left or this link to ask us your questions!
#1
Q: What is the Minimum Distance for placement of the Booster in relationship from the starting point where the dryer vent duct hose attaches to the connection point from the back of the dryer? If I have to install in the attic how often must the booster be cleaned out? Thanks
A: From the installation manual: Under normal conditions, fan should be inspected at least once every six months. It is recommended that the booster fan is mounted in the ductwork not less than 15 feet from the exhaust outlet of the dryer. A lint trap may be used if closer than 15 feet. See more info here: https://www.hvacquick.com/catalog_files/solerpalau_DBF-100XC_iom.pdf

Asked on 2019-03-28 by Jim
#2
Q: Of the booster fans that you carry, I am wondering which would be best for my application. I need to install the fan in line horizontally approx. 7 feet from the dryer. There are two 90 between the dryer and booster.
A: So long as you are greater than 5 feet, a metal body unit such as this or the Fantech will be fine, but you will need the Inline Lint Trap to accompany either fan as it will be less than 15 feet from the dryer.

Asked on 2013-09-28 by Martin
#3
Q: Do these fans work with gas dryers?
A: Yes, use the pressure switch version as it measures the pressure in the duct to determine when it should run.

Asked on 2013-07-20 by EDJ
Related Products
Fantech boosters are all suitable for most dryer boosting applications and can be used for maximum duct length of 60 linear feet with a maximum of six elbows using four inch rigid duct.

Plastic and metal Dryer Vent Boxes with snap on trim ring. Available in two sizes: 4" (for a 2x4 wall) or 6" (for a 2x6 wall) .

Made from polished stainless steel for durability. Designed for exterior applications in dryer, bathroom, or kitchen exhaust venting.

Vent caps suited to exhaust fan applications such as dryer, bathroom, or kitchen exhaust venting. Standard with flapper damper.

The SFZ and the SFZC dryer vents have large openings to reduce clogging. They are suited to exterior applications such as dryer, bathroom, or kitchen exhaust venting.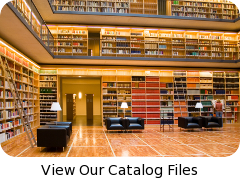 why buy from us?
We're engineers passionate about home ventilation and serious about customer service – so you can count on us for carefully-selected equipment and expert advice to ensure your project is a success from specification to installation.
Your call is answered by qualified people who will gladly discuss your project in detail, advise you professionally and never sell you inappropriate products.