S&P PV Series Inline Fans

S&P PV Series Inline Fans
The S&P POWER VENT (PV) are designed for direct connection in-line with standard diameter round ducting. They incorporate a powerful external rotor motor that has been factory matched to a nonoverloading backward curved centrifugal fan wheel.This powerful combination enables the PV fans to deliver exceptional airflow performances against high static pressure typically found in ducted ventilation systems. All motors within PV fans are fully speed controllable.
Manufactured from high grade pressed galvanized steel, with black baked enamel coating. Supplied with a strong galvanized steel mounting bracket. Supplied with a prewired wiring junction box. Totally enclosed permanent split capacitor start and run external rotor motors. 115V 60Hz (single phase) electrical connection. Permanently sealed, self lubricating precision ball bearings. UL, cUL and ETL Listed.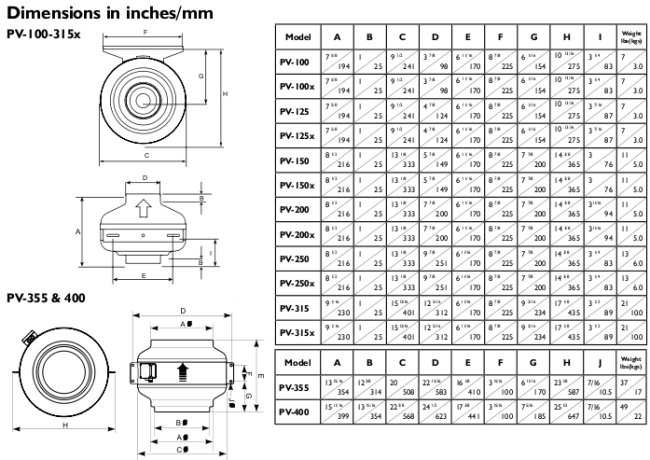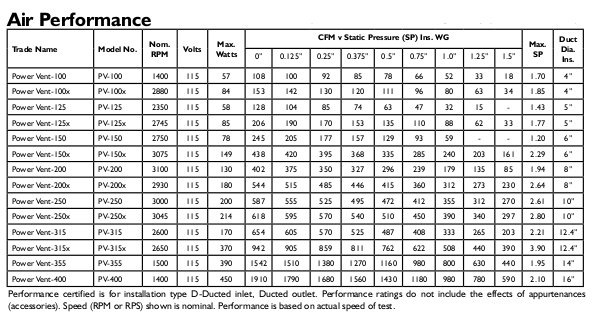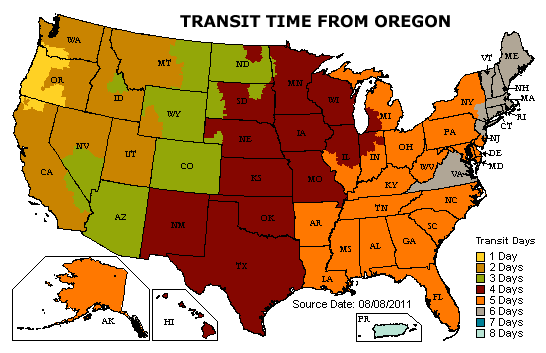 Do you have questions about the products on this page?

Click on the ? image on the left or this link to ask us your questions!
#1
Q: can the S&P PV series be used to replace the FD-150 for bathroom venting? the contractor who installed the central system did not do the best job to minimize runs taking the bathrooms all the way to the basement. I am looking for an improved fan to deal with the higher static pressure due to the installation. Thank you
A: Not sure what the FD-150 is but the PV series as well as the Fantech inline FG or FR fans are a good choice for high static pressure applications. If you need help sizing feel free to call us at 877-711-4822.

Asked on 2020-05-09 by Bernie
#2
Q: Is this fan internally spark proof, since the motor is external
A: No. The motor is in the air stream so its not explosion/spark proof.

Asked on 2019-09-24 by Phil
#3
Q: Can this fan be used as an inline blower fan for my fire place?
A: The fans are suitable for working airstreams up to 140 deg F. If the fan is close to the fireplace or has unmixed very hot air from the fireplace then it might be hotter than 140 F and not suitable for the PV fans. Most inline fans max out at 140 F or less.

Asked on 2017-10-03 by matt
#4
Q: What is the max temperature spec?
A: All PV models are suitable for working airstreams up to 140 F.

Asked on 2017-01-31 by Joe
#5
Q: For a unique application, can this unit be reversible?
A: These fans are not reversible electrically.

Asked on 2016-11-19 by Keith
#6
Q: I have a PV150. Is this a two speed fan? Does hooking the hot side power lead to the unused brown terminal put it into a lower speed range?
A: No, this is a variable speed fan. You would need a speed controller such as the 2525.5UL or SCS5 to vary the speed. DO NOT ATTACH ANYTHING TO THE BROWN TERMINAL. Please see page 3 in the install manual for wiring details. Thanks.

Asked on 2014-09-01 by Joel
#7
Q: can this be plugged in or is it hard wired? Thanks.
A: It can be run either way, hard wired or wire a plug on to it for convenience.

Asked on 2013-12-16 by geo
#8
Q: What kind of speed controller can I use for this fan? I tried simple rheostat which didnt work.
A: Needs to be a motor rated speed control like the WC15 or equivalent.

Asked on 2013-10-12 by Josh G
Related Products
S&P PV-POWERVENT series fan KITS offer a choice of single or dual vent exhaust. These kit are used for installations that require long or complicated duct runs.

TD-SILENT series are extremely quiet, low profile mixed-flow fans. Manufactured in plastic material with a perforated inner skin and sound-absorbent insulation.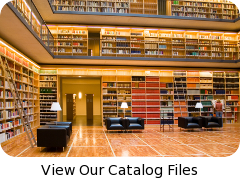 why buy from us?
We're engineers passionate about home ventilation and serious about customer service – so you can count on us for carefully-selected equipment and expert advice to ensure your project is a success from specification to installation.
Your call is answered by qualified people who will gladly discuss your project in detail, advise you professionally and never sell you inappropriate products.