S&P FB Series Filter Boxes

S&P FB Series Filter Boxes
FB filter boxes are used when the installation requires filtered air to be introduced, to prevent the entry of dust and impurities to the area being ventilated. They have an easy open cover, in order to quickly change the filtering element.
The FB filter boxes come with a MERV-8 rated filter. Sheet metal construction.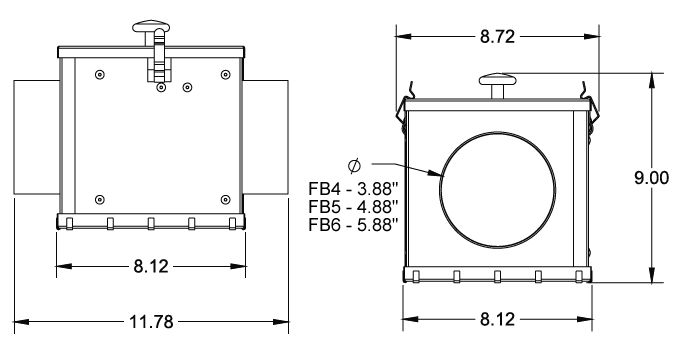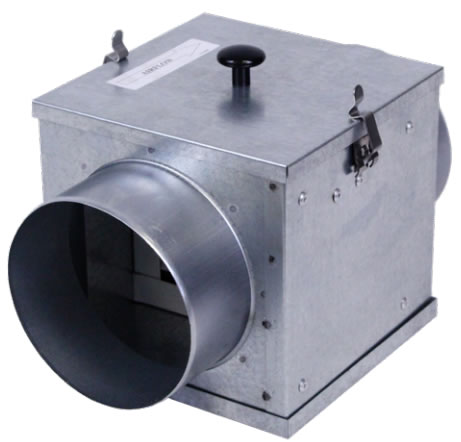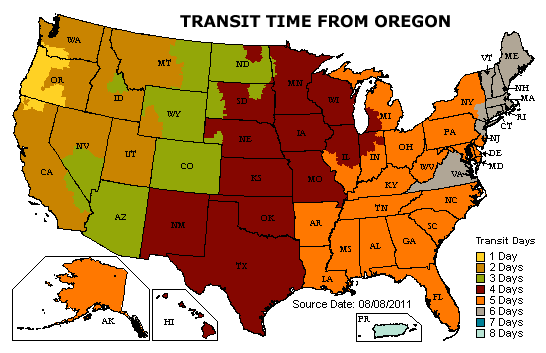 Do you have questions about the products on this page?

Click on the ? image on the left or this link to ask us your questions!
#1
Q: what is the filter size?
A: Filter size is 8x8x2 inch per the catalog. Unclear if the filter has an undercut.

Asked on 2022-11-27 by Dave
#2
Q: Can I get a larger size such as 12 or 14 with MERV 8 filter?
A: No. SP does not make any custom sizes. You can get the IFB filter with a MERV 6 or CFB with a higher MERV filter in larger sizes. https://www.hvacquick.com/products/residential/Filter-Boxes/Inline-Filter-Boxes

Asked on 2022-06-22 by Boston
#3
Q: Is this UL approved?
A: No. The Fantech FB 6 is UL 900 listed: https://www.hvacquick.com/products/residential/Air-Filters/Inline-Filter-Boxes/Fantech-Filter-Boxes

Asked on 2020-08-19 by Eric
#4
Q: What type of a filter does this box use? I see it is rated to MERV-8 but the type of filter is not stated.
A: Standard pleated disposable 8x8x2 nominal size filter. Similar to these: https://www.hvacquick.com/products/residential/Air-Filters/Medium-Efficiency-Air-Filters/Accumulair-two-inch-filters-MERV-8

Asked on 2020-02-09 by JT
#5
Q: Are MERV 6 AND MERV 8 filters only different in size? Are hepa filters available for the 4 filter box?
A: The FB boxes are only available in MERV 8. No HEPA option. If you need a HEPA take a look at the CFB-HP-6 box: https://www.hvacquick.com/products/residential/Air-Filters/Inline-Filter-Boxes/HVACQuick-CFB-HP-Series-HEPA-Inline-Filter-Box

Asked on 2019-12-03 by Arthur
#6
Q: Where are replacement filters available? FB series filter boxes use 8 X 8 X2 filters, but a search does not return a source for this size filter.
A: The filters have an exact size of 7.75x7.75x1.75 inch. That is currently not a standard filter size in our offering but we can special order them in that size. Call us if interested.

Asked on 2018-10-29 by Ron
Related Products
Filter boxes for inline filtration. Available in sizes to fit 5, 8, 10, 12 or 14-inch ducts. 22-gauge galvanized steel construction. MERV-6 polypropylene filter media.

Filter boxes for inline filtration. Models for 6, 8, 10 or 12 inch ducts. Aluminum construction. 4 inch MERV-13 filter included. MERV-15 (near HEPA) and carbon filters available.

V-bank filter boxes for inline filtration. 8, 12 or 14 inch connections. White painted aluminum construction. MERV-13 filters included. Gasketed door and filter area.

HEPA filter box for inline filtration. Aluminum construction. H13 HEPA filter and a MERV-11 pre-filter included.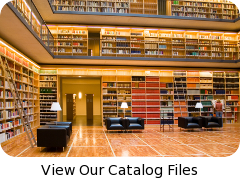 why buy from us?
We're engineers passionate about home ventilation and serious about customer service – so you can count on us for carefully-selected equipment and expert advice to ensure your project is a success from specification to installation.
Your call is answered by qualified people who will gladly discuss your project in detail, advise you professionally and never sell you inappropriate products.