Fantech LD Silencers
Fantech LD Silencers are typically used for kitchen exhaust systems. When attached to an inline or remote fan, the LD silencer dramatically reduces the sound traveling through the duct.
Two silencers can be used together in installations where noise reduction is critical. For the most effective noise reduction, the silencer should be fitted immediately behind a fan or bend. The internal insulation thickness is 2 inches.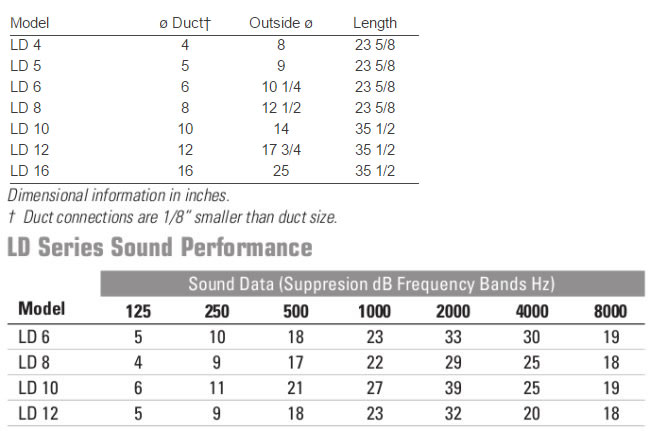 Stocked in both Oregon and New York state. See transit maps below.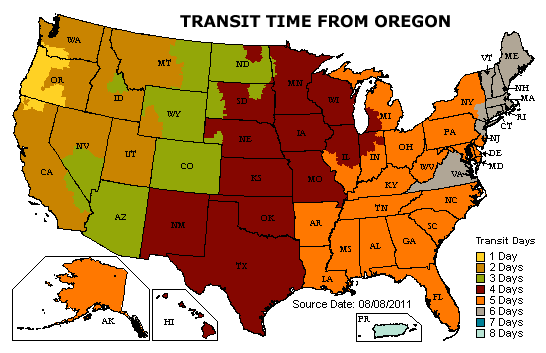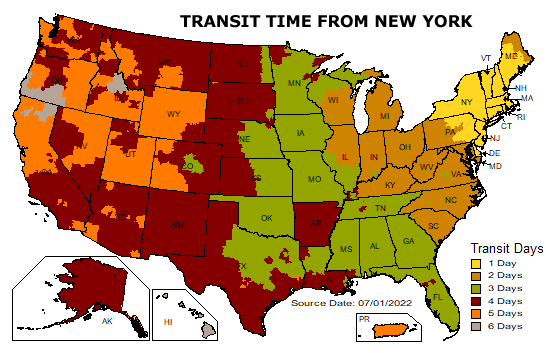 Some products might ship from multiple warehouses.
Do you have questions about the products on this page?

Click on the ? image on the left or this link to ask us your questions!
#1
Q: What is the about 500 cfm exhast air individual pressure drop in LD8 silencer and CSL elbow duct silencer.
A: Both of these have the same inner diameter as the 8 inch duct. The CSL will have roughly the pressure drop of a 90 degree elbow. The LD 8 will have less pressure drop since its straight. Our calculator tells me approx 0.02 inches of pressure drop for the LD 8 at 550 CFM.

Asked on 2022-05-29 by Dan
#2
Q: Residential - I am thinking about pulling the motor in my hood over the cooktop. When the motor is on high, it is way too noisy. I want to install an inline motor in the attic with a silencer. I assume some small amount of grease gets past the metal filter attached to the hood. I can only imagine that some of the grease sticks inside the silencer. Can the silencer be soaked in hot water with a degreaser or Oxy Clean once a year without degrading the silencer insides?
A: The silencer is lined with Mylar so that grease in the airstream does not soak into the silencing material. Its not meant to be soaked or steam cleaned since that is typically never done in a residential kitchen exhaust.

Asked on 2022-02-05 by Kenn
#3
Q: Would this reduce noise for a kitchen hood with internal fan?
A: No. This is for remote fans and installed between the fan and the hood.

Asked on 2022-01-06 by Lisa
#4
Q: I am installing this in short run of Kitchen ducting, is there an advantage in making the run of duct longer for sound absorption? to attach to hard ducting do you just put a screw through the duct into the neck of the silencer behind the gasket?
A: You are presumably using rigid metal duct so no advantage to extend. The metal duct does not absorb any sound. Yes, slide the duct over the silencer lip, put in a couple of screws and tape/seal the connection.

Asked on 2021-03-16 by Kirk
#5
Q: Any reason why you would not suggest using this product with a forced air heating/cooling duct system?
A: No reason. Fine for that use.

Asked on 2020-11-18 by Jeff
#6
Q: How does this work? What mechanism reduces the sound?
A: Its a muffler. The inner surface is perforated metal, mylar and sound absorbing glass insulation.

Asked on 2020-05-09 by Kevin
#7
Q: How does one cut this to a length to match the run?
A: It does not get cut. Its installed as 1 piece. You can add additional silencers if required for further noise reduction.

Asked on 2020-04-08 by Ganesh
#8
Q: Does this silencer come with the clamps to attach to flex duct?
A: No clamps included. Ideally you would slide the duct over the flanges, tape it and then use a zip tie over the tape for a mechanical connection.

Asked on 2019-12-28 by GCM
#9
Q: Is there an advantage to combining BOTH an inline silencer AND a 90 degree elbow silencer? Im thinking of using a wall mounted exterior centrifical fan. 8 round duct. The vertical run is about 5 and the horizontal run is about 7 including 1 exterior brick wall. Im concerned about noise and also grease buildup in the system. What are your thoughts?
A: You will get some benefit in doubling up on the silencers. If space and budget allows, there is no downside. In a residential kitchen, grease buildup should not be an issue. Make sure your intake has a grease screen or filter of some kind.

Asked on 2017-11-28 by Chicago
#10
Q: Can this be installed vertically? Is there any benefit of vertical or horizontal installation?
A: Yes, it can. The orientation does not make any performance difference.

Asked on 2017-02-28 by Steven
#11
Q: RE #3 below, Given 18 Ft (+90* elbow) from Kitchen Hood to outside wall, should Fan & Silencer be close to Hood or outside wall..? e.g. - best configuration (location & spacing) for quietest operation. How much difference in noise reduction does location of fan/Silencer make
A: I would put the fan further away from the hood and the silencer relatively close to the fan. Typically installation factors such as joists, power availability, access, etc govern fan location. Remember the silencer has to be between the hood and the fan.

Asked on 2017-01-01 by Rob
#12
Q: What is the pressure drop on the silencer for 6 duct?
A: The inside diameter of the silencer is same as the duct (virtually not size reduction) so the pressure drop should be the same as a similarly long piece of duct - very small.

Asked on 2016-11-03 by DS
#13
Q: What are the outer diameters and lengths of your LD 4 and LD 5 models?
A: LD 4/5s are 23-5/8 inch long. LD4 outside diameter is 8 inches and the LD5 9 inches.

Asked on 2016-04-04 by Steve
#14
Q: Does the silencer get mounted before or after the fan unit?
A: The silencer gets mounted between the kitchen and the fan --- between the space where you are trying to reduce sound and the fan which makes the sound.

Asked on 2015-05-07 by David
#15
Q: What are the weights of these silencers? Im specifically interested in the LD-8 unit.
A: Ships at 18 pounds, but my guess is closer to 12-15.

Asked on 2014-01-28 by Mike
#16
Q: Ok to use for kitchen exhaust?
A: Yes, for residential use. Commercial kitchens have special requirements. In residential use since you are using rigid duct these silencers make a tremendous difference to the noise transmitted from the fan.

Asked on 2013-03-28 by Nick
Related Products
Used to reduce the noise of any inline exhaust fan (kitchen exhaust systems). The rigid elbow provides an efficient turn and at the same time maximizes sound absorption.

Flexible insulated duct is convenient, leak tight, and is the key to quiet bathroom ventilation systems.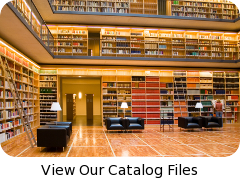 why buy from us?
We're engineers passionate about home ventilation and serious about customer service – so you can count on us for carefully-selected equipment and expert advice to ensure your project is a success from specification to installation.
Your call is answered by qualified people who will gladly discuss your project in detail, advise you professionally and never sell you inappropriate products.