Fantech PB Bathroom Exhaust and Light Kits

Fantech PB Bathroom Exhaust and Light Kits
Fantech PB Bathroom Kits contain the essential parts for quiet and powerful bathroom ventilation. Each item has been selected to work together as part of a system. Each kit will contain a fan, grilles with backdraft dampers, clamps and hangers. Optional items include lighted grilles - halogen or fluorescent.
The bath fan motor is installed away from the living area for super quiet operation. PB fans are designed for or continuous operation to meet ASHRAE Standard 62.2. Standard 7 year warranty!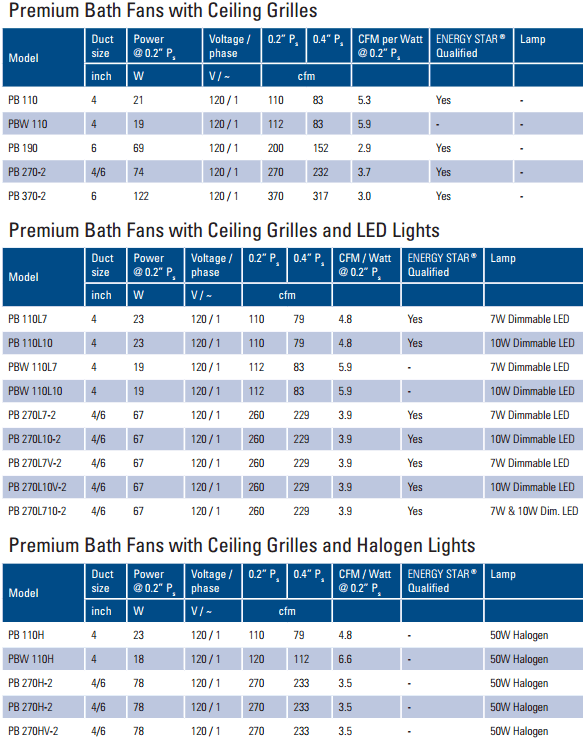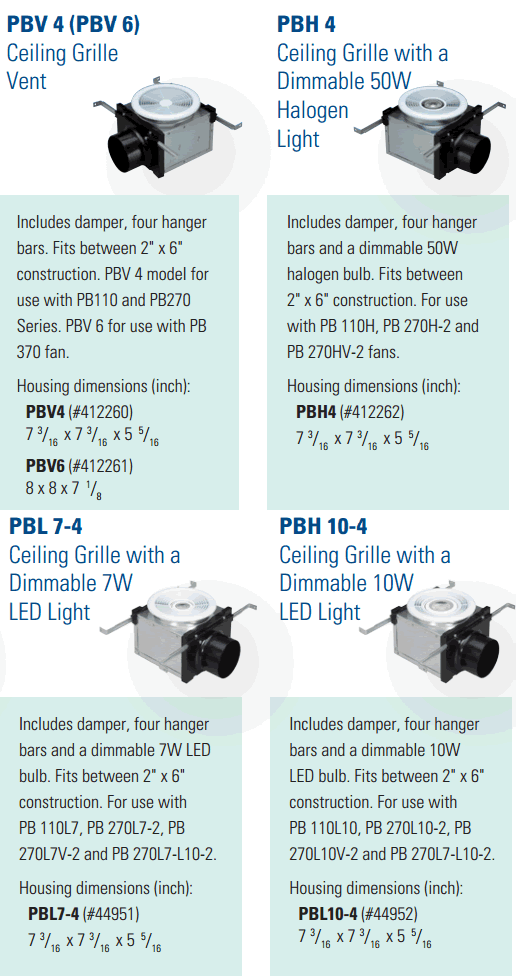 Video (click for youtube.com video):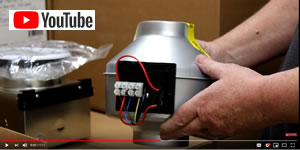 Catalogs and IOM:
Stocked in both Oregon and New York state. See transit maps below.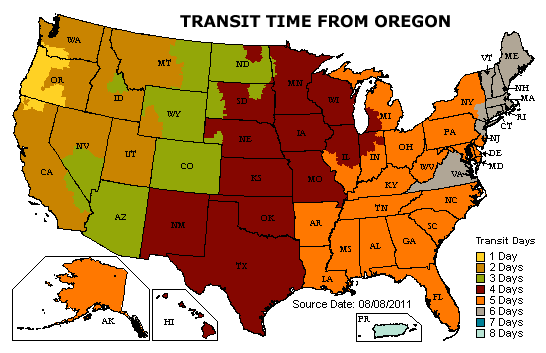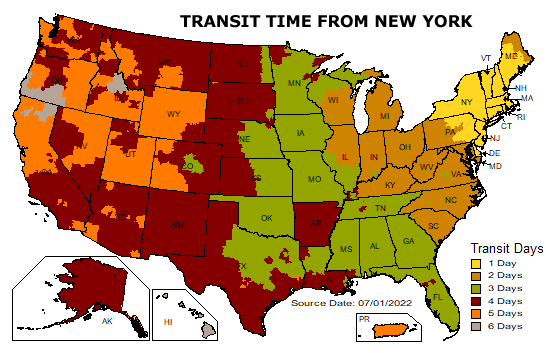 Some products might ship from multiple warehouses.
Do you have questions about the products on this page?

Click on the ? image on the left or this link to ask us your questions!
#1
Q: Im looking at installing a PB270L7V-2. What is the maximum distance from the grills to the Discharge Cap? Where should the fan be located in the 8 duct?
A: That kit uses 4 and 6 inch duct. The fan is installed on the 6 inch duct. There is no maximum distance but the longer the duct the less airflow you will get. The fan should be located 8 feet or more from the grilles to limit the noise. The more duct between the fan and the grilles the quieter the system will be.

Asked on 2023-09-06 by Ed
#2
Q: Can the PB270 or PB370 be used for 3 locations (with additional grill and Y splitter purchase)?
A: Theoretically yes but practically the most you want is 2 locations. Beyond that the wiring/switching becomes more and more complicated.

Asked on 2023-02-11 by RH
#3
Q: Are the bulbs replaceable? Do they screw in or is it a pin type? any idea of the K rating?
A: The LED bulbs are 3000K, E26 base. Replaceable.

Asked on 2020-10-27 by Ken
#4
Q: Can the PB110L10 be used to cover 2 bathrooms that are next to one another?
A: That fan is sized for 1 bathroom. We would not recommend splitting the airflow for 2 bathrooms.

Asked on 2020-08-02 by Ashley
#5
Q: What are the dimensions of the pbv4 grille? The bathroom Im rehabbing has two inop vent fans installed. One has 9x9 square grille. Other has a 6 circular but the previously botched opening cut was 8, leaving a visible gap which I want to rememdy with a new grille.
A: Here you go (dimension tab): https://shop.fantech.net/en-US/pbv4--bath--fan--grill/p118508

Asked on 2019-10-25 by Michael
#6
Q: Can the fan and light be wired separately to wall switche to operate independently??
A: Yes, absolutely. You can wire together or independently.

Asked on 2018-07-20 by Will
#7
Q: Hardwired? Do you honor the 7 year warranty on this product?
A: Yes these are hardwired (no cord). These come with a manufacturers warranty of 7 years when purchased through an authorized dealer. We are an authorized dealer so if there is an issue we work with you to get it fixed/replaced by Fantech.

Asked on 2017-09-03 by Douglas
#8
Q: I see that the Fantech PB bathroom exhaust & light kits are UL listed for wet locations, are there any concerns or issues putting the fan inside a steam shower enclosure though?
A: The fan is typically installed remotely in the attic, away from the steam shower enclosure. You do not want to expose it directly to steam. Only the grilles/lights are exposed to the direct moisture.

Asked on 2016-10-29 by Matt
#9
Q: Does the PB270LV-2 include a FG6 fan?
A: Yes, all the 270 kids include the FG6 inline fan.

Asked on 2015-05-19 by kj
#10
Q: Is the light in the grill/vent directional? I have a cathedral ceiling and would like to direct the light directly down.
A: They are fixed in a straight down orientation.

Asked on 2014-03-07 by JT
#11
Q: My bath is roughly 110 sq ft. Can I use the PB100 or should I splurge for the PB190????
A: If it is a normal bath the PB110 would be serviceable. In the event there is any steam shower, jetted tub or vaulted ceiling the jump should be made to the PB190.

Asked on 2013-04-04 by Marko
#12
Q: Are the halogen light allowed right above a shower?
A: The boxes are UL listed for wet location, so yes they are.

Asked on 2013-04-04 by Al
#13
Q: Are the PB kits metal cased fans or plastic? If metal then do I have to insulate them? I live in PA. Thanks!
A: The fans are metal, insulating the fan would not be a bad idea to combat condensation. The fan will not be bothered as it ventilates itself through the body and has no exterior vents.

Asked on 2013-04-04 by Tony
#14
Q: Can the grilles be placed in the wall instead of the ceiling? If not then how about a fairly steep cathedral ceiling?
A: They can be mounted in any orientation, though some angles will render the built in damper useless so other provisions (additional back draft damper) should be made.

Asked on 2013-04-04 by AFan
#15
Q: My current bathroom fans are vented to the attic (not outside). Can I vent these the same way?
A: It is not advisable to vent them into the attic as moisture can build up and mold can begin to grow. We recommend taking the exhaust all the way out of the building.

Asked on 2013-04-04 by LR
Related Products
Exterior mounted fan bath kits containing fans and grilles. Some kits include lighting. RVF4 fans.

Take Fantech PB kits and add duct, timer, roof cap and clamps for a ready-to-go kit.

Inline duct fan made of a thermoplastic resin. UL listed for outdoor use or in wet locations. Speed controllable. Installs in any orientation.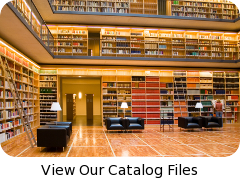 why buy from us?
We're engineers passionate about home ventilation and serious about customer service – so you can count on us for carefully-selected equipment and expert advice to ensure your project is a success from specification to installation.
Your call is answered by qualified people who will gladly discuss your project in detail, advise you professionally and never sell you inappropriate products.