Suncourt TW Room to Room Transfer Fans

Suncourt TW Room to Room Transfer Fans
The Suncourt ThruWall Room to Room transfer fans help to balance temperature in adjoining rooms quietly and efficiently for year round comfort. Telescoping housings installs in walls from 3-3/4" to 6-1/2" thick. 8 inch hole diameter.
TW108 (Round grille face):
• 2-Speed switch: 110 CFM on high, 60 CFM on low
• 54 dBA sound level on high
• 10 foot long grounded cord
• Airflow exits on the switch/cord side
TW208 (Rectangular grille face):
• Variable speed: From 100 CFM on high to 40 CFM on low, 44 dBA (3 sones) sound level
• Hardwired for clean installation
• Rotating grille allows airflow direction to be changed for comfort
• Airflow exits on the switch side

TW408 (Square grille face):
• 2-Speed: 130 CFM on high, 90 CFM on low, 54 dBA sound level on high
• 10 foot long grounded cord
• Airflow exits on the switch/cord side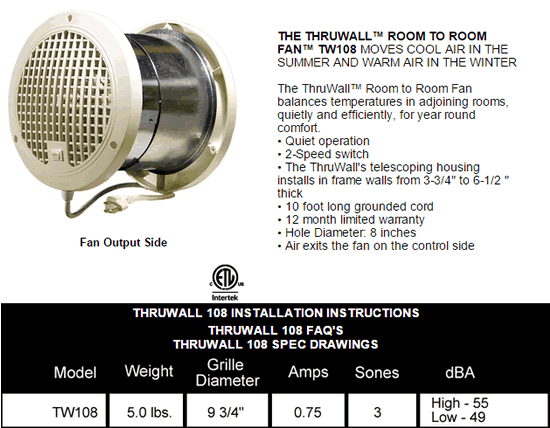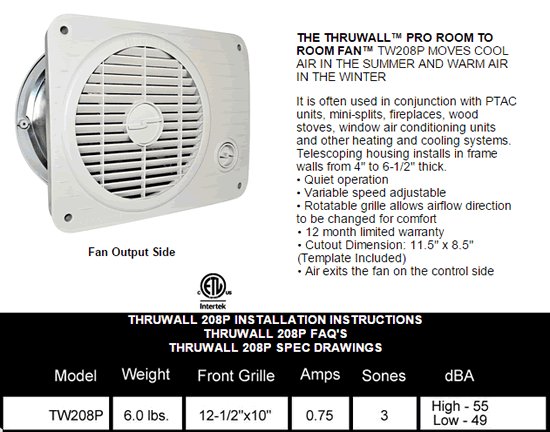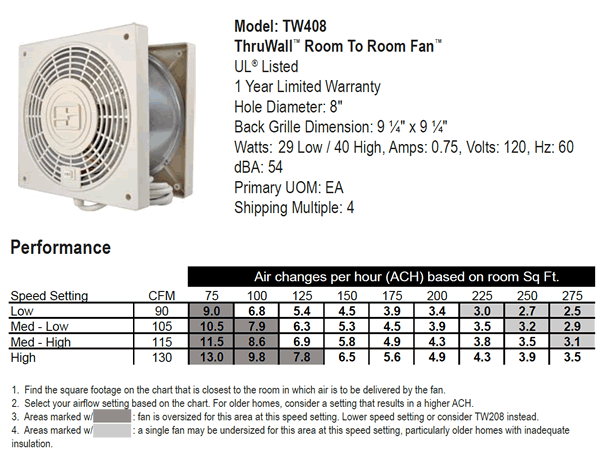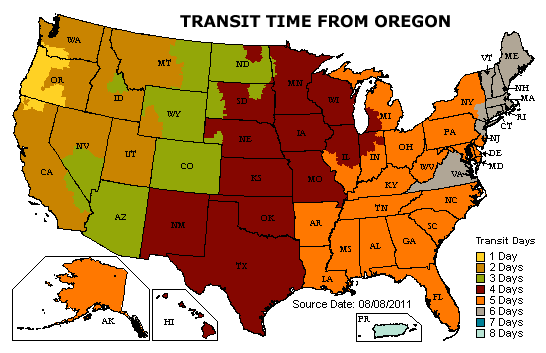 Do you have questions about the products on this page?

Click on the ? image on the left or this link to ask us your questions!
#1
Q: Can we get opposite air flow on the corded fans?
A: Unfortunately they are non-reversible and not made any other way.

Asked on 2022-03-25 by Richard
#2
Q: Does this have to be wired to a switch or does the cord plug into an outlet
A: The TW108 has a 10 foot grounded power cord included. The TW208P is hardwired - no cord.

Asked on 2019-05-04 by Eric
#3
Q: I want a room to room fan just like these but i only want it to run based on wireless thermostat input. Is there anything like this?Preferably hard wiring unit #tw208p
A: You could wire one of these to be controlled by the Tjernlund SWT wireless thermostat. Note its a heating only thermostat: https://www.hvacquick.com/products/residential/AirFlow-Boosting/Room-to-Room-and-Register-Boosters/Tjernlund-AireShare-Level-to-Level-Ventilator

Asked on 2018-12-01 by Scott
#4
Q: Is this fan thermostatically controlled?
A: No thermostat included. The fans have either a 2 speed switch or speed adjustment, depending on the model.

Asked on 2017-02-04 by Bailey
#5
Q: Does the TW108 have an on/off switch or only a two speed switch? if it is hard wired in the wall do I need a switch box?
A: The unit mounted switch has 3 positions: off, low and high. If you hardwire the unit you can still use the unit mounted switch.

Asked on 2015-11-19 by G.H.
#6
Q: Is the TW208P ok to put in a floor register and what is the Sones rating.
A: You would use the HC500 for floor register and that one comes in at 50 decibels.

Asked on 2014-01-05 by Paul
#7
Q: not finding what Im looking for . I want to pull heat from basement room that has pellet stove up stairs to another room .Anything for pulling heat from 1 floor to another not using existing ducting ,like a through floor unit ?
A: Look at the Tjernlund ASLL unit, sounds just right for your application.

Asked on 2013-12-29 by Andra
#8
Q: does this fan have to be put in the wall or can it be set near the floor. I am renting and cannot put holes in the walls.
A: It does need to be inserted in the wall as it moves air from one room to another, with no need for an open door.

Asked on 2013-09-20 by ck
Related Products
Suncourt's Flush Fit Register Booster increases airflow to under performing registers improving comfort to rooms that are too hot or too cold. 5 fan speed settings.

Make hot and cold rooms more comfortable. This room to room ventilator is installed in a wall cavity and pulls air from one room to transfer to another.

Suncourt's HC600 EZ8 register booster increases airflow to under performing registers. Fits any register that is 6x12 inch or smaller. 8 fan speed settings.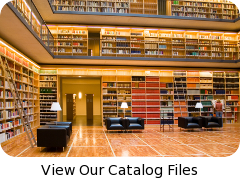 why buy from us?
We're engineers passionate about home ventilation and serious about customer service – so you can count on us for carefully-selected equipment and expert advice to ensure your project is a success from specification to installation.
Your call is answered by qualified people who will gladly discuss your project in detail, advise you professionally and never sell you inappropriate products.