Tjernlund RMS160 Radon Mitigation System

Tjernlund RMS160 Radon Mitigation System
The Radon Vac™ provides an effective and affordable way to reduce radon levels in existing homes. The unique system consists of a plug-in fan, exterior hood and installer-purchased PVC pipe. Because the Radon Vac side wall system evacuates through the basement side wall, homeowners can avoid having PVC pipe run vertically through living areas or outside of their homes to the roof line.
The Radon Vac fan is engineered to reduce radon across a variety of sub-slab soil types (dirt, gravel, etc.). It features a sealed, galvanized housing and a PSC permanently lubricated, quiet, low watt motor.
The corrosion-proof Radon Vac Variable Aspiration Control Hood dilutes the radon gas with fresh outdoor air as it exits the hood and safely propels it away from the structure. Airflow velocity is easily adjustable at the hood to accommodate the length of pipe run and whether the radon is being drawn from a sump pit or below the basement floor.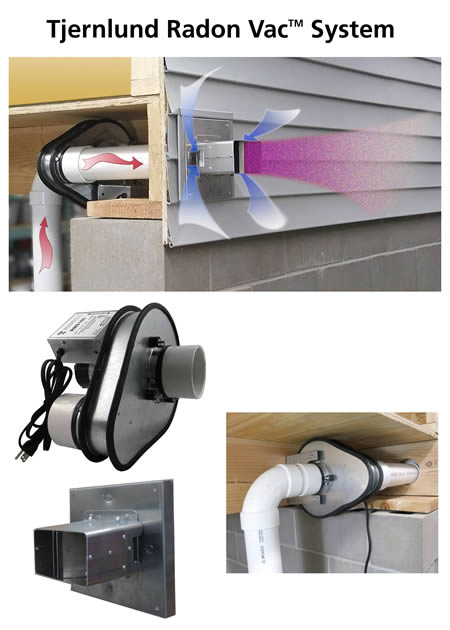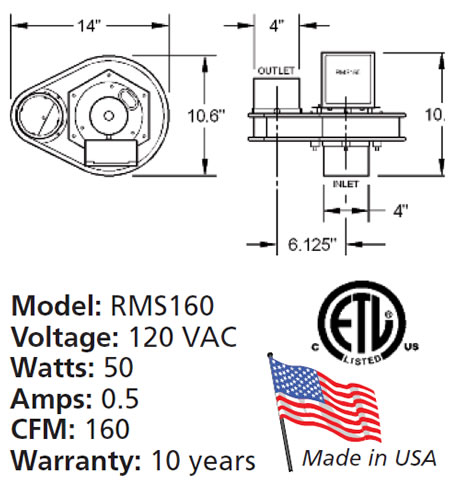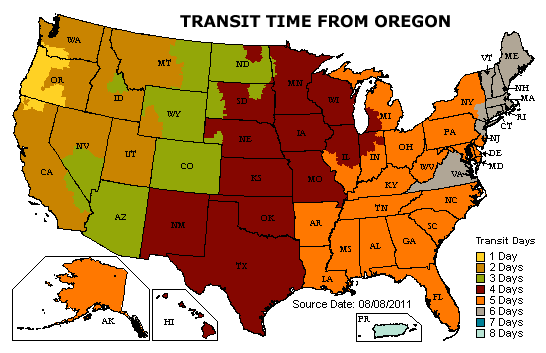 Do you have questions about the products on this page?

Click on the ? image on the left or this link to ask us your questions!
#1
Q: how much static pressure can this fan develop?
A: Looks like it tops out around 2 inches. See the CFM vs pressure chart in the install manual for more details: https://www.hvacquick.com/catalog_files/Tjernlund_RMS160_Radon_System_IOM.pdf

Asked on 2020-11-26 by Paul
#2
Q: Is this unit (rms160) able to be mounted outside of house?
A: No. Its designed for interior mounting, protected from the elements.

Asked on 2020-01-26 by PFM
#3
Q: How far away from any windows does this system need to be installed.
A: Page 4 of the installation manual shows distance requirements. Looks like 4 feet for a window. https://www.hvacquick.com/catalog_files/Tjernlund_RMS160_Radon_System_IOM.pdf

Asked on 2018-10-07 by Lukie
#4
Q: Is one fan enough for a house basement?
A: Depends on the square footage and the type of system it is to be hooked into..generally yes, but not under all circumstances.

Asked on 2014-08-18 by ralph
#5
Q: In reviewing these systems, common complaint is noise of the motor running .... drone transmitted in to the building/ flooring etc. How do you fix this ?
A: Isolating the motor via rubber couplers or some sort of flexible mount...also the hum can be transmitted by a vibrating pipe, so isolating that will help as well.

Asked on 2014-03-30 by George in Ohio
#6
Q: Are these systems legal in Indiana?
A: Should be, but always best to consult local codes.

Asked on 2014-01-28 by SEK
#7
Q: I live in Silver Spring Md, I was told that any radon exhaust has to be released above the roof. Is that true? if so this wonts work here will it?
A: Local codes will vary, but there is no specific guideline stating it must be above the roof line.

Asked on 2013-11-10 by R. Dame
#8
Q: How complicated is it to install? We just installed a french drain and sub pump in the cellar. Can we tap into the sub pump pipe to vent the area?
A: They do sell sump covers that will have a piping take-off that you could attach to. That aside, it is a matter of running some pipe and bringing power to the fan.

Asked on 2013-10-15 by Paul
#9
Q: is there a switch that turns the motor on and off? or does it run all the time?
A: This and most radon fans are designed to run continuously...one could put an electrical switch on it if desired to shut it down periodically.

Asked on 2013-10-10 by pete
#10
Q: I live in NY state, is there a height requirement above ground level for the vent location. I see other systems venting above the eves of the house, thanks.
A: Per the manual, it needs to be a minimum of 1 foot above grade. There are also restrictions as to where it is in relation to windows etc...

Asked on 2013-07-31 by Richard
#11
Q: Does this product clear radon for well water?. We have levels of radon in our everyday water use. Concern is when showering
A: This is for radon gas only.

Asked on 2013-06-01 by mj
Related Products
Rn Series inline fans designed for radon mitigation. Low to high pressure applications. Average life expectancy of 7-10 years under continuous running.

They are ideal for most active subslab radon mitigation systems. 3" diameter connections for use with 3" or 4" PVC pipe.

Battery-powered air flow alarm monitors radon system operation. It mounts directly onto the system pipe to alert users of a low or no air flow condition.

The SF180 fan provides superb performance, runs ultra-quietly and is a low-profile, attractive alternative to a traditional round radon fan.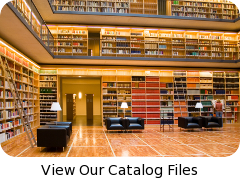 why buy from us?
We're engineers passionate about home ventilation and serious about customer service – so you can count on us for carefully-selected equipment and expert advice to ensure your project is a success from specification to installation.
Your call is answered by qualified people who will gladly discuss your project in detail, advise you professionally and never sell you inappropriate products.