Tjernlund AireShare ASLL Level-to-Level Ventilator

Tjernlund AireShare ASLL Level-to-Level Ventilator
The AireShare Level to Level Ventilators distribute air from one conditioned space to another. Virtually every home has temperature differentials on different levels of the house.
The AireShare moves air from one level of the house to a room on another level of the house that is uncomfortably hot or cold. This air movement helps to destratify stagnant air in homes, improve ventilation rates and make both rooms more comfortable.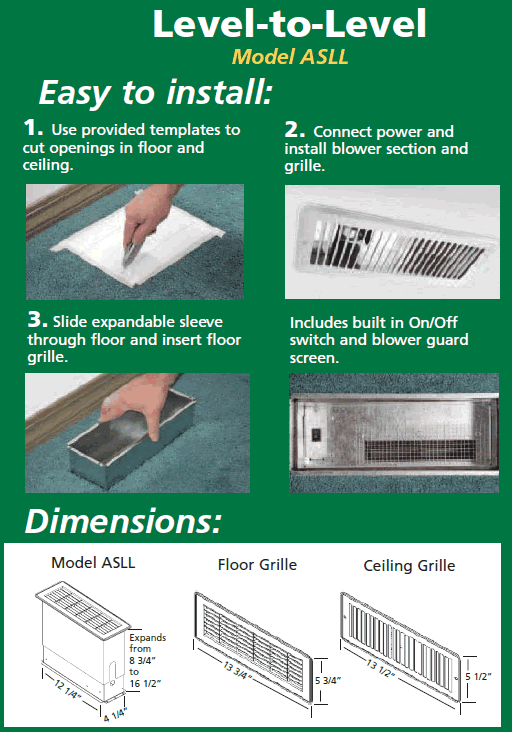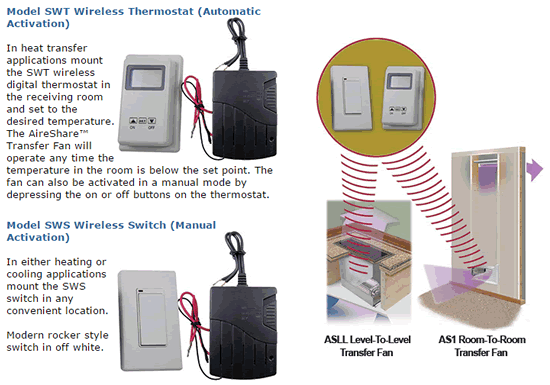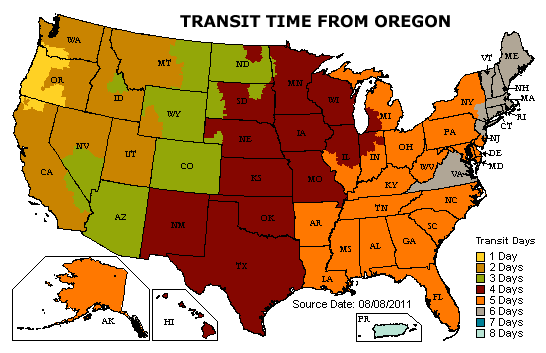 Do you have questions about the products on this page?

Click on the ? image on the left or this link to ask us your questions!
#1
Q: Do you provide a sones level for your fans?
A: 1.15 sones per the installation/operation manual.

Asked on 2022-01-06 by Jim
#2
Q: What thermostat can be used to turn the fan on and off when the room reaches the desired temperature?
A: For heating only, you can use the Tjernlund SWT thermostat (on the same page). For cooling and heating you would have to source a different thermostat that can switch 120V line voltage.

Asked on 2018-11-27 by MWP
#3
Q: Is this fan reversible so it can be used to draw cool air from a basement in the summer and blow the warm air to the basement in the winter, without removing the unit and turning it over?
A: Not without physically removing and re-installing it the opposite way.

Asked on 2014-12-24 by Scott
#4
Q: Our living room has an 18 ceiling. I would like to pull air from the top & blow it out a register about 14 lower on the same wall. What setup would best do this? Multi speed would be nice to be able to select amount of air flow & noise.
A: This would be a perfect job for the Tjernlund AS1 as it uses the stud bay within the wall as a channel for the air.

Asked on 2013-11-25 by Jerry
#5
Q: Can the ASLL be mounted horizontally instead of vertically? I am converting a covered deck to an all season room. The level of the deck is 8 lower than the floor in the rest of the house. In the winter I run a pellet stove in my basement and I want to install your unit at the base of the wall in the new room and draw warm air from the basement.
A: It can be mounted as such, but I think the AS1 would make more sense because of the offset in height.

Asked on 2013-09-03 by Bob E
Related Products
Make hot and cold rooms more comfortable. This room to room ventilator is installed in a wall cavity and pulls air from one room to transfer to another.

Wireless controls for switching booster fans or heat transfer fans such as AireShare products.

Safely move heated or cooled air between rooms or floors. Also excellent for ventilation! Variable speed and multi speed models.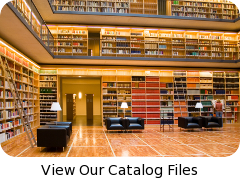 why buy from us?
We're engineers passionate about home ventilation and serious about customer service – so you can count on us for carefully-selected equipment and expert advice to ensure your project is a success from specification to installation.
Your call is answered by qualified people who will gladly discuss your project in detail, advise you professionally and never sell you inappropriate products.