Dayus DABLS Shallow Bar Linear Grilles

Dayus DABLS Shallow Bar Linear Grilles
· 1/2 inch ultra shallow depth
· Fixed blades designed for long straight air throw
· Sections joined together for continuous appearance. When longer than 96", aligning pins are provided.
· End caps are included. Open ends can be specified when required.
· Available on 1/2" increments as standard
· Durable powdercoat painted finish
Any available size in 3 days! Call us at 877-711-4822 if you do not see the size you need listed.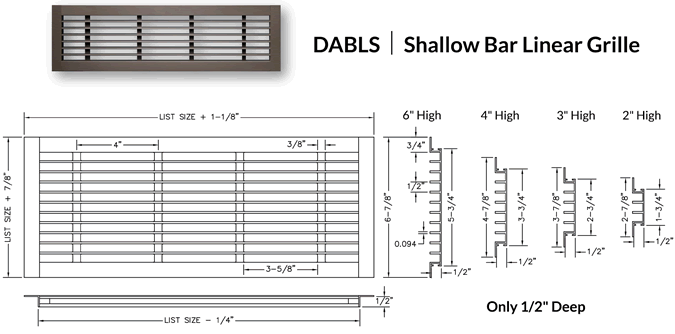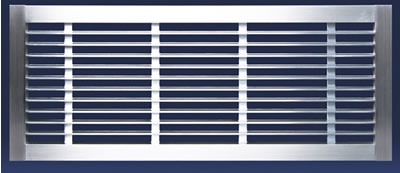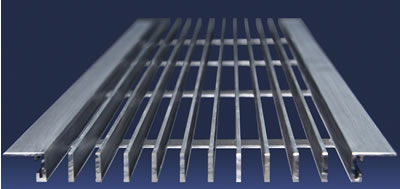 Finish Colors:

| | | | | |
| --- | --- | --- | --- | --- |
| | | | | |
| White | Silver | Mill | Brown | Black (Flat Black) |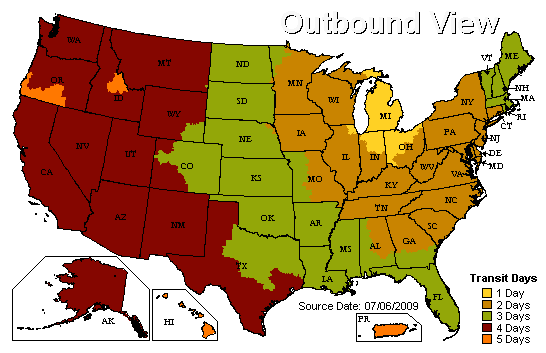 Do you have questions about the products on this page?

Click on the ? image on the left or this link to ask us your questions!
#1
Q: Where are the screw holes located on the flange?
A: Here is the typical hole pattern chart for Dayus: https://grilles.hvacquick.com/catalog_files/Dayus_Hole_Chart.pdf

Asked on 2020-10-12 by Alex
#2
Q: Wondering if this grille can be used vertically to vent the side of a cabinet?
A: Sure. You probably want the DABLS-A version with screw holes in the flanges for attaching it securely to the cabinet.

Asked on 2017-09-12 by Betty
#3
Q: I would like to use these in my kitchen ceiling, two bedrooms, foyer, and two baths. Do they come with an adjustable option? this is new construction; i like the sleek narrow look of these bar grilles, probably in a 24 x 6 size.
A: Have a look at the DABLD series (D at the end means a damper is included) which includes dampers for adjustment of airflow: http://www.hvacquick.com/products/commercial/Grilles-Registers/Grilles/Dayus-Bar-Linear-Grilles

Asked on 2017-07-04 by RW
#4
Q: Im pricing 10x6 floor grilles. Are these suitable for floor applications?
A: No, the shallow bar linear should not be used for floor applications. You need the DAF or DABLF styles which have extra re-reinforcement for floor use. Feel free to call with any questions 877-711-4822. http://grilles.hvacquick.com/products/residential/Bar-Linear-Grilles/Floor-Bar-Linear

Asked on 2017-05-15 by Landon
#5
Q: my grille size is 2x48. that is opening size. What is actual size of grille going to be?
A: If the selected list size is 2x48 (opening size), then the overall size with the flange will be 2-7/8 x 49-1/8. Check out the info sheet link for more into.

Asked on 2015-10-22 by Gen
#6
Q: The hole for my vent is 5 by 45. Is it possible to get a custom height of 5? The options in the drop down are 4 and 6 only.
A: They are only available in the listed sizes. Only custom dim on these is the length. Try the standard DABL/DABLD for that width.

Asked on 2015-01-27 by CSR
#7
Q: How much larger is the overall grill than the opening dimension?
A: One would add 7/8 inch to the size to get the overall footprint.

Asked on 2014-04-08 by KWO
#8
Q: this is a kick vent under theckitchen counter . Is it possible to have upper and lower flanges removed and only have the side flanges ? The horizontal hole clearance is only 4 inches .
A: We would need to use a standard DABL bar linear, which can be ordered with no flanges at all. The Shallow is and extrusion and available in limited sizes.

Asked on 2013-09-09 by Stuart
#9
Q: Is there a trim for the ends of this grill to finish the sheetrock opening
A: Yes, there is a flange all the way round to cover any indiscretions in the sheetrock.

Asked on 2013-07-24 by k
#10
Q: I was looking to order 2, silver but legnth to be 41.5 Inches long by 6 inches tall if possible
A: You may call in and place the order as that is a standard size, or check the site in a day or 2 as we are going to add the 1/2 options on the site.

Asked on 2013-07-23 by Joe
Related Products
MADE TO ORDER Dayus DABL and DABLD stylish bar linear grilles and registers. Extruded aluminum construction. Full depth and options. Some sizes suitable for floor use. Any size in 3 days!

Dayus DAPH and DAPHD floor bar linear grilles and registers. Heavy duty construction with a full range of size options. MADE TO ORDER.

Bar linear grilles and registers for FLOOR USE. DAF and DAFD style. Available with dampers for flow control. MADE TO ORDER.

Bar linear grilles DABLN No Flange Frame grilles. Available with dampers and removable cores. MADE TO ORDER.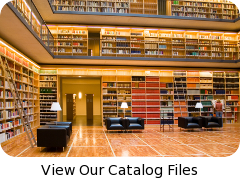 why buy from us?
We're engineers passionate about home ventilation and serious about customer service – so you can count on us for carefully-selected equipment and expert advice to ensure your project is a success from specification to installation.
Your call is answered by qualified people who will gladly discuss your project in detail, advise you professionally and never sell you inappropriate products.